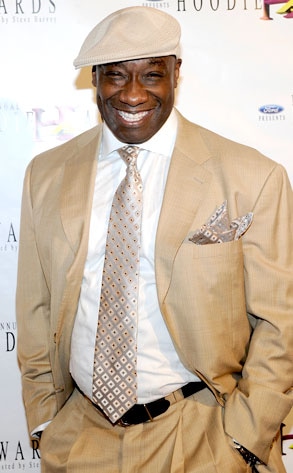 Ethan Miller/WireImage.com
Hollywood is now grieving the death of Michael Clarke Duncan.
Some two months after suffering a heart attack, the actor passed away at 54, sending colleagues and admirers into mourning.
"I am terribly saddened at the loss of Big Mike," The Green Mile costar Tom Hanks said in a statement. "He was the treasure we all discovered on the set of The Green Mile. He was magic. He was a big love of man and his passing leaves us stunned."
Green Mile director Frank Darabont said the "sadness I feel is inexpressible."
"I'm devastated at the loss of Michael Clarke Duncan, one of the finest people I've ever had the privilege to work with or know. Michael was the gentlest of souls—an exemplar of decency, integrity, and kindness," said Darabont. "Our experience making The Green Mile together was immersive and incredible, a once-in-a-lifetime journey. What sticks most in my mind was his devotion to his craft and the strides he made as an artist during that time, which was beyond inspiring to those of us who took the journey with him.
"Michael has left us far, far too soon. We lost a great man and a great spirit today. My thoughts and condolences goout to his fiancée Omarosa [Manigault-Stallworth] and to his family.
"The MOST gentle of Giants.  RIP, my friend Michael," said Tommy Davidson, who worked with Duncan on TV's Proud Family.
Meanwhile, numerous fans from Tinseltown took to Twitter to pay their condolences to Duncan: 
Sam Claflin: "R.I.P. Michael Clarke Duncan. You will be sorely missed - A true legend."
Wiz Khalifa: "R.I.P. Michael Clarke Duncan (Retweet For Respect)"
Steve Harvey: "I will miss my friend, Michael Clarke Duncan. What an incredible soldier in God's Plan."
Katharine McPhee: "Ahhh... #michaelclarkeDuncan I loved you! Green Mile was epic. RIP #gentlegiant"
Dwayne Johnson: "'When something happens, we always say it happens for a reason' ~ Michael Clarke Duncan 12/10/57 - 9/3/12 I'll miss you my brother.."
Timbaland: "R.I.P. Michael Clarke Duncan sending my condolences 2 his fam & love ones"
Seth Green: "Will miss you @OfficialMCD Thanks for being so kind & awesome. #GenuineArticle http://say.ly/KEQ45YI"
Zachary Levi: "Blessed to have had the opportunity to work with Michael Clarke Duncan while he was still with us. He was a kind soul that will be missed."
Holly Robinson Peete: "RIP Michael Clarke Duncan Heaven has an amazing new angel. I will miss your smile most http://say.ly/Mgq45YE"
Frankie Muniz: "So sad to hear about Michael Clarke Duncan. A great friend, and a GREAT guy! He always had the best stories... RIP"
Sherri Shepherd: "So sad & shocked to hear of the death of Michael Clarke Duncan. Only 54 years old- he never recovered from his heart attack in July RIP sir. My heart and prayers go out to you @Omarosa ... I remember you telling me how happy you & Michael Clarke Duncan were - so sorry"
Olivia Munn: "Michael Clarke Duncan always had a smile on his face & a big bear hug ready for you. My thoughts & prayers are with his family&friends. RIP"
Michael Ealy: "RIP Michael Clarke Duncan. Miss u already brother!"
Niecy Nash: "Rip Michael Clarke Duncan. We shared sum great times! C u on the other side friend... @OMAROSA praying 4 u & the fam http://lockerz.com/s/241117455"
(Originally published Sept. 3, 2012, at 6:24 p.m. PT)