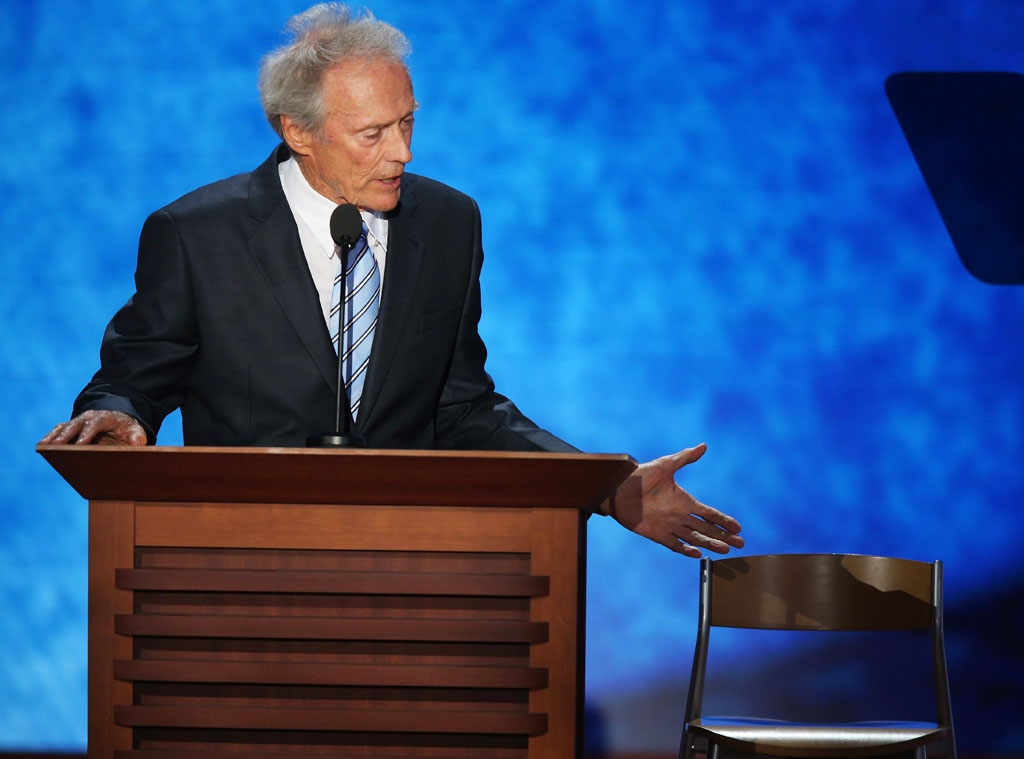 Mark Wilson/Getty Images
The biggest story to come out of last night's closing to the Republican National Convention? Eastwooding, of course!
Clint Eastwood's unusual, yet highly entertaining speech in which he spoke to President Barack Obama an empty chair has caused an Internet sensation and sparked a hilarious meme poking fun at the Oscar winner's kooky endorsement of Mitt Romney for president.
Here are our top five takes on what has become known as "Eastwooding":
1. McKayla Maroney: The Olympic gymnast's infamous scowl is the gift that keeps on giving. Having sparked a meme herself, this time Maroney is popping in on the GOP convention to shoot Eastwood a "Not Impressed" glance from backstage. Guess Maroney feels the same way about the Dirty Harry star's speech as she did about placing second at the London games!
2. Princess Leia: There was definitely some sort of force with Eastwood last night, and this Star Wars juxtaposition of a Princess Leia hologram standing on the now famous chair perfectly captures the hilarity of the 82-year-old's unusual speaking circumstances. Wonder what Carrie Fisher has to say about Eastwood's choice of words (and chairs)?
3. Barack Obama: President Obama is getting in on the Eastwooding joke in more than one way. Aside from this laugh-inducing riff, the Commander in Chief tweeted post-speech "This seat's taken," along with a photo of him in a chair bearing the nameplate "The President." Let's just say that if President Obama had actually been on stage last night, Eastwood's speech would probably have come off a lot less loopy.
4. Gran Torino: Borrowing a famous phrase from Eastwood's 2008 flick Gran Torino, this variation on the theme definitely makes our day.
5. Keanu Reeves: Poor, sad Keanu Reeves. It looks like the Speed star is getting quite the time-out lecture from Eastwood in this hilarious pic. But don't worry Keanu, the kookiness will all be over soon!