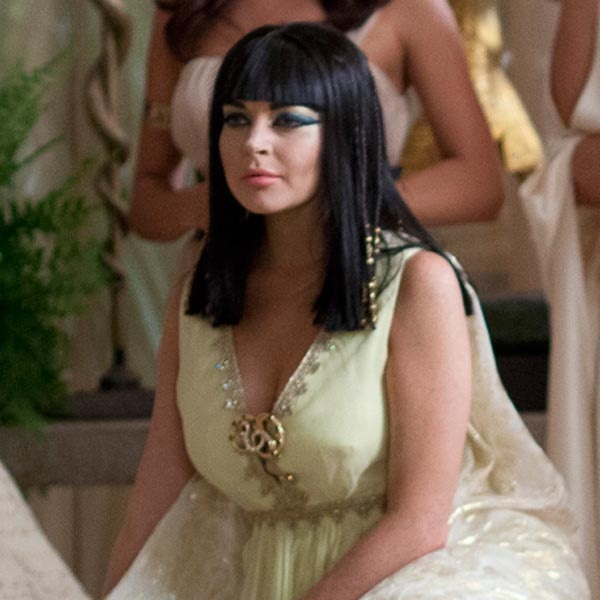 Jack Zeman/Lifetime
Filming for Liz & Dick may have wrapped, but the drama continues. 
Lindsay Lohan is in the middle of controversy once again after the owner of Elizabeth Taylor's Cleopatra "love nest" trailer claims it was trashed while on loan for filming of the movie.
According to CNN, Elizabeth Taylor fan Angel Alger bought the lavish 38-foot travel trailer—where Taylor's romance with Richard Burton began—for $50,000, in June. However, due to previous contracts, Alger was obligated to deliver the trailer to Silver Screen Pictures only two days after getting it so they could shoot the film.
When the trailer was given back to Alger in July, there was an estimated damage of over $100,000, including cigarette burns on furniture and fabrics, broken mirrors and dishes and an antique European rocking chair that Taylor sat in after filming every night was missing.
"I was specifically told that it would come back in pristine condition and in even better condition than it was at that time," she said.
So now the main question left is: Who did it?
"Only a psychotic and rebellious person or people would steal irreplaceable museum belongings and leave it in this vandalized condition," Alger told CNN, and admitted that she suspects Lohan might have something to do with this, but has no evidence to prove it.
Lindsay's rep Steve Honig slams the idea that his client, who he says is a huge fan of Taylor, would do such a thing, and said, "You should ask the producers about it."
E! News reached out to Alger, who declined to comment at this time.
Yesterday, reports claimed that the actress was no longer welcome at the famed Hollywood hotel, Chateau Marmont for allegedly failing to pay a bill totaling more than $46,000 from her recent stay.
Apparently, Lohan was reportedly under the impression that her producers were footing the bill. However, a Liz & Dick source tells E! News that they never agreed to pay her hotel bill, but they did pay a $5,000 hotel bill in the beginning which was deducted from her salary.
—Reporting by Ken Baker