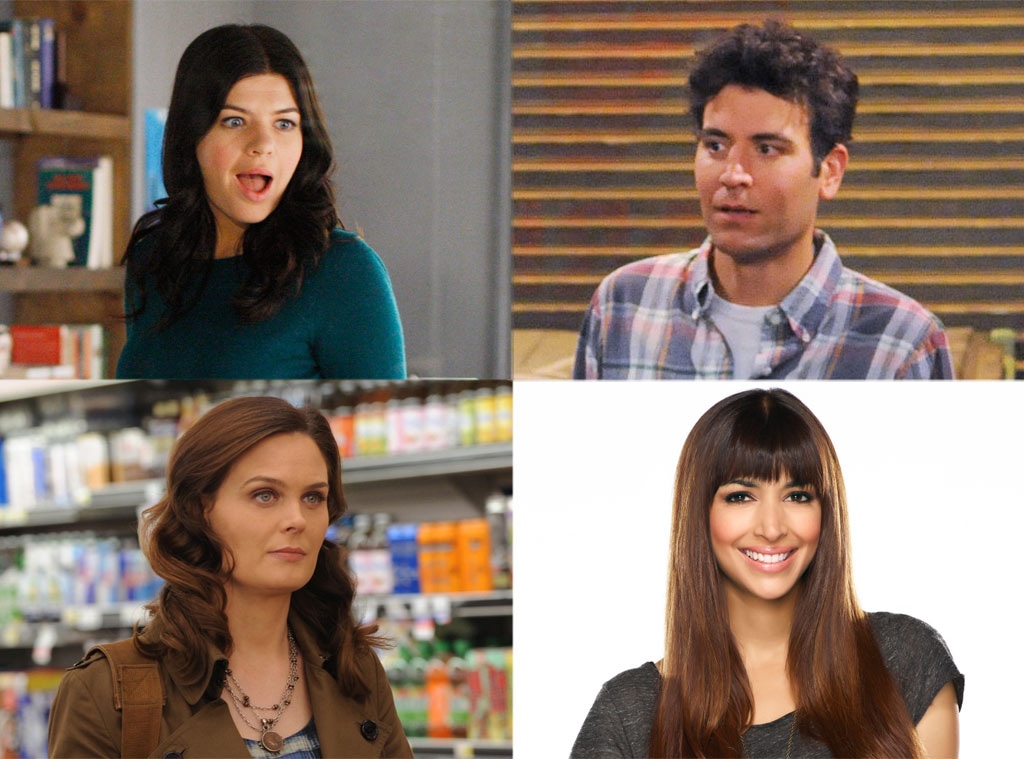 FOX; VIVIAN ZINK/ABC; Ron P. Jaffe/CBS
There are tons of reasons (50, actually) why we're excited for Fall TV season, but one of the most notable shows we are absolutely desperate to return is Revenge. After that killer first season, can you blame us?
We talked to one of the stars of ABC's hit drama about a certain episode that's supposed to blow our minds, and we have more scoop from our How I Met Your Mother set visit. All that, plus New Girl, Bones, Pretty Little Liars and more in today's Spoiler Chat!
Steven: Revenge! I'm so so obsessed and can't wait for season two!
We recently chatted with Ashley Madekwe about the new season, and based on what she tells us, Revenge fans better buckle the hell up after the premiere. "Episode two we were all shocked as we were reading it. Like, 'shut up!' We've gone very, very dramatic which I love," she says. "We have new cast members, we have a mom for Emily, we have a love interest for Nolan. I have a little protégé. So we have new people to interact with which is fun." Get here faster, Sept. 30!
Erica S.: Keep the How I Met Your Mother spoilers coming!
Your wish, our command. Let's let Josh Radnor preview the season premiere for you. "Victoria left her German fiancé, Klaus, at the alter, hopped in my car, and we're riding off into the sunset. Of course, because this is How I Met Your Mother, that's not really the end of the story," he tells us. "Some other things happen. Some other complications [arise] from that. Because, I'll just say this, Ted was left at the altar by a girl named Stella and so it starts to weigh on him. So that's where the drama spins out of. From that."
Amanda in Boston: I've been missing your bones scoop! Got anything?
Emily Deschanel dropped some seriously awesome scoop while on the The Jazzy Vegetarian radio show. How awesome is that name by thy way? "We have a great episode to start off where Booth and Brennan get reunited eventually after many months of being apart," Deschanel says. "We still are trying to catch the serial killer [Christopher] Pelant, who has framed me for the murder of my friend. He's very sneaky and incredibly smart, and so he is really giving us a run for our money. That's a big episode, and it's pretty dramatic and exciting."
Gemma: I think Cece on New Girl is a seriously underrated character. Please tell me we'll be seeing much more of her in season two.
Of course we will! So much so, that the New Girl writers are planning a flashback to Cece as a teenager. And spoiler alert: she was beautiful even back then. Shocking, we know. No awkward phase for our Cece! And here's some bonus scoop: Wilmer Valderrama is coming to New Girl! Well, a fake Wilmer Walderrama will be there, trying to woo one of Cece's model friends by posing as the That 70's Show star. Good luck with that, fake Wilmer.
Susannah: Parks and Recreation scoop would be lovely, thanks!
Parks & Rec is going meta, y'all! If you're like us, you are obsessed with star Retta's tweets about TV (she's currently watching Buffy for the first time). In a season five episode, Donna gets into a bit of trouble with some Pawnee residents because of her tweets. Love. It.
Samantha: Happy Endings me, Kristin!
Um, that sounds like a task that should be illegal, but we think you're talking about the ABC comedy Happy Endings. And if you're not, that's a talk for another day. Now, scoop time! In the season premiere, Max takes care of Penny after an accident puts her in a full body cast. Casey Wilson fills us in on where things go from there: "Basically he starts to Misery me. Like Kathy Bates in the movie. He's taking care of me but he won't let me get well, because he has a crush on my physical therapist," she says. Plus, there's a Max and Penny flashback in the episode, which is something we always cherish.
Christine in Orlando: The Pretty Little Liars finale blew my mind! I need scoop on what happens next NOW.
The bad news is that Pretty Little Liars doesn't return until Oct. 23. The great news is that it's coming back with a serious bang: the Halloween episode! Troian Bellisario offered up this tease about PLL's highly anticipated spooky special. "If you enjoyed last year's, it's just going to be leaps and bounds [better]. It's no holds barred. It's amazing what they did this year. I think we're still paying for it in terms of the budget," she laughs. "The costumes are much better this year, the location is out of this world, and the stakes are much, much higher." She stayed mostly mum on the costumes, but did give us this clue: "The challenge was, and it was not adhered to by all the girls, but the challenge was to pick a movie and come as a character." We. Can't Wait.
Want your TV questions answered in our next Spoiler Chat? Email them to tvdiva@eonline.com or tweet at @KristinDSantos!
—Additional reporting byJenna Mullins,Tierney Bricker, Marc Malkin & Brett Malec