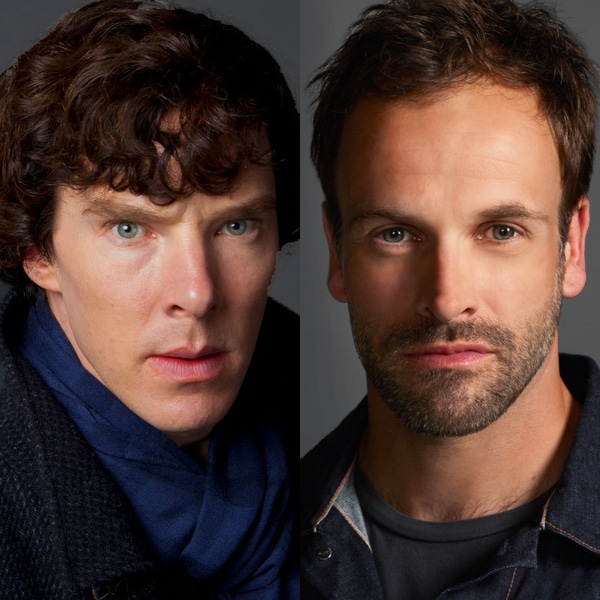 BBC; Nino Munoz/CBS
UPDATE: Benedict Cumberbatch said he was "misquoted" and issued a statement to The Hollywood Reporter, saying, "I am both bemused and upset at this misquote. I never said that Johnny took the job for the paycheck nor did I ask him not to do it. What I said is I would have preferred not to be in the situation where we will again be compared because we are friends. I know for a fact his motivations were to do with the quality of the script and the challenges of this exceptional role.
"It is baffling because I have only been supportive of an incredibly talented actor who I am proud to call a friend taking a job I know he is going to enjoy immensely and be wonderful in," Cumberbatch continued. 
"Over 70 actors have played this exceptional character before us. To say that there can be only one Holmes would be ludicrous. We're both thrilled to get the opportunity to play him in a modern context. The world of Sherlock Holmes and the world that we live in now is big enough to take more than one interpretation. As a genuine Sherlock Holmes fan, I am greatly looking forward to his series."
-------------------------------------------------------- 
There is no mystery here. Benedict Cumberbatch is not 100 percent on board with CBS' take on the legendary Sherlock Holmes.
Cumberbatch, who currently stars in the BBC hit Sherlock, talked to Shortlist.com about being the villain in the new Star Trek sequel, his rise to fame, and his initial impression about Jonny Lee Miller's turn as Sherlock on Elementary, a modernized tale about the detective.
"I got hold of the pilot script just to check it out. I don't know, we'll see," Cumberbatch says in the interview. "I think there's room for us both to coexist. I don't feel threatened by it and I wish him the best, which is as diplomatic as I can be."
He continues: "It's very odd. I did say [to Miller], 'Well, I'd prefer you didn't do it but you've got a kid to feed, a nice house in LA and a wife to keep in good clothes.' I think Jonny was like, 'Mate, I've got the f--king mountain to climb here, you've got nothing to fear.' I wish him the best of luck, but I'm a bit cynical about why they've chosen to do it and why they cast him."
During the TCA Press Tour last month Miller told reporters that he had a "private discussion" with Cumberbatch after he took the role, and had nothing but respectful things to say about his work. "I love the work that Benedict has done with Sherlock. I would call him up like a groupie after every episode had come out. I've been able to reassure him about how different this script was."
CBS president Nina Tassler also praised the BBC series, calling it "wonderful," and adding: "I think there's plenty of room for another Holmes in our world."