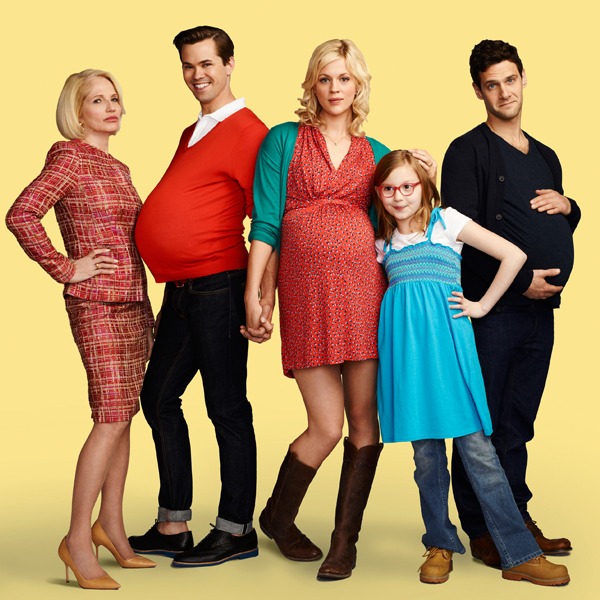 Robert Trachtenberg/NBC
Now that Ellen Barkin has more than a Twitter box to address the NBC affiliate station in Utah banning The New Normal from their schedule, she has lots more important things to say about it.
Jeff Simpson, CEO of Bonneville International, parent company of Salt Lake City NBC affiliate KSL-TV, told the Deseret News in a statement last week: "After viewing the pilot episode of The New Normal, we have made the decision to keep it off our fall schedule. For our brand, this program simply feels inappropriate on several dimensions, especially during family viewing time."
Obviously, this reasoning did not sit well with The New Normal star. 
"Yes, it is [an affiliate's] right to ban something, but I do think it's a form of censorship. I don't understand why a show that I happen to love, like Law and Order: SVU, is in family viewing time," Barkin said during a conference call with reporters on Wednesday. "Why that show, that I hope nobody is allowing a 10-year-old to watch, is acceptable but a show about a very loving, committed same sex couple wanting to raise a child, why that is explicit and offensive and rape, murder, child slavery in very graphic detail is not."
She continued: "I did take a position on that and being responded to by both sides meant that people paid attention and I think that that's what matters. And whether you agree that KSL should ban the show and let your children watch a TV show where they use words like 'anal tearing' and 'vaginal tearing' and 'child slavery,' that's OK…but watching two men kiss each other and cry because they've decided to raise a child together…I don't get it."
Back in July, One Million Moms publicly announced they were boycotting the show for being "harmful to our society." Barkin, whose character on The New Normal is a member of One Million Moms, mentioned during the call that she had reached out to the group in order to discuss their position.
"I sent out a tweet asking the One Millions Moms, who I think are the three thousand moms, to meet me for tea and talk about it," she said. "They didn't answer back. I guess their position would be 'Well, we know where she stands and Ryan Murphy stands so we have nothing to say to them.' And that's what makes this country divisive."
Barkin hopes that people who have already judged the show before seeing it might change their minds and see that it's not a show trying to stir up trouble, it's a series everyone can enjoy and be entertained by. "With all of the divisiveness that is going on in the country we live in, so much of it based around just fear of the other and anyone who does not look like me, walk like me, talk like me, have sex like me, they're the other and I'm afraid of them," she said. "Hopefully we will learn that it's just not scary and there's nothing to be afraid of. The show is absolutely hysterically funny, and I hope that people who draw opinions before they watch it give it a chance."
The New Normal premieres Sept. 11 on NBC. But you don't have to wait that long! You can watch the entire pilot episode below. Have a look and then tell us what you think of The New Normal in the comments!
(E! and NBC are both part of the NBCUniversal family.)