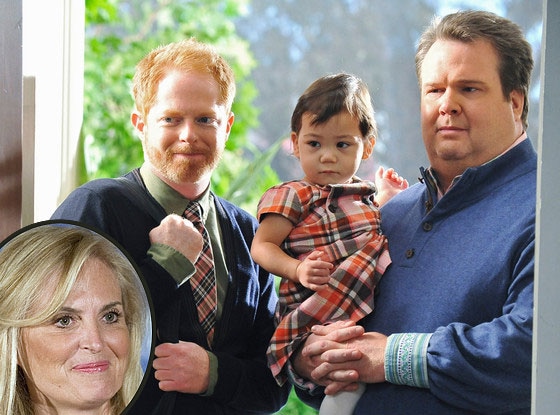 Eric McCandless/ABC, AP Photo/Jessica Hill
Ann Romney might be gearing up for her role as potential first lady, but she might also wanna prep for another one: TV star.
Mitt Romney's 63-year-old missus openly professed her love for Modern Family to Entertainment Tonight, and now its creator, Steve Levitan, has offered her a spot on the show—while slyly taking dig at her husband's anti-gay-marriage stance.
The showrunner took to Twitter yesterday and wrote: "Thrilled Ann Romney says ModFam is her favorite show. We'll offer her the role of officiant at Mitch & Cam's wedding. As soon as it's legal."
Now there's a canny casting stunt for TV sweeps week!
Levitan, of course, was clearly taking swipe at the Republican presidential candidate, who's been a vocal opponent of gay marriage.
While on the campaign trail in Oklahoma City in May, he told reporters, "I have the same view on marriage that I had when I was governor. I believe marriage is a relationship between a man and a woman."
Levitan's tongue-in-cheek offer arrived on the eve of Ann's well-received speech at the Republic National Convention Tuesday, in which she created a warm image of Mitt while saluting the nation's women.
Levitan, meanwhile, has already had his hands full dealing with his Modern Family cast amid salary squabbles, rehearsal holdouts and lawsuit threats.
Even the show's young stars have gotten in on the action, reportedly scoring $70,000-per-episode paydays.
Hey, maybe Ann Romney won't play so hardball!