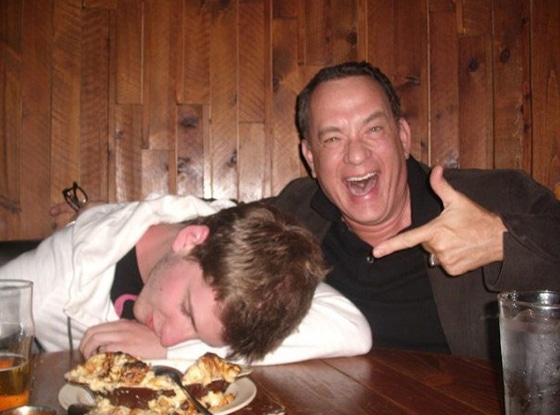 imgur.com
Tom Hanks was already known for being a great guy.
But his reputation as one of the nicest movie stars around has kicked into overdrive after a friend of a guy who had an incredibly close encounter with the actor posted evidence of their interaction on the photo sharing site Imgur.
Random dude, meet the greatest guy to pretend to be drunk with: two-time Oscar winner Tom Hanks.
"My friend met Tom Hanks, stole his glasses and pretended to be wasted," groucho22 wrote on Reddit, thereby prompting a whole thread of fond Hanx (as the actor calls himself on Twitter) memories.
Not to mention, the Imgur photos—one of the lucky fan pretending to be passed out on Hanks' shoulder, the aforementioned glasses perched askew on his face, and others of a mock-troubled and then a laughing Hanks gesturing at his passed-out new pal—have been viewed more than 1.4 million times in roughly 24 hours.
There's no mention of where the pictures were taken, but Hanks' latest tweet, dated Aug. 22, reads, "Back from Vacation. Missed the Olympics but know of US Women's soccer Gold!! In Fargo ND? The TNT Diner makes killer breakfast. Hanx."
So, maybe North Dakota? Or was it a local boy who turned what could have been a routine L.A. celeb sighting into something special?