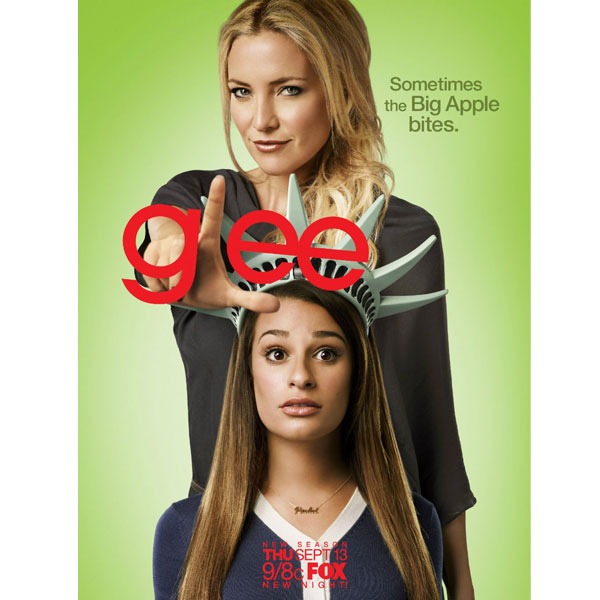 FOX
Of all the TV shows returning this fall, no one is taking a greater risk—with potentially bigger payoff—than Fox's Glee. Not only is the series moving to a new night (Thursdays), but with most of the main characters graduating to new lives (that don't include a glee club), the show is morphing into a new version of itself. One that's at least half of what that once-rumored spinoff would have been.
It isn't Glee; It's Glee 2.0.
After spending time on the show's new "New York City" set in Hollywood, and seeing some of the scenes in store for season four, it's evident Glee will be a mix of two distinctly different and separate worlds. While most of the first few episodes will focus on what goes down in New York City—where Rachel (Lea Michele) starts classes at NYADA and is soon joined by Kurt (Chris Colfer) and presumably Finn (Cory Monteith)—we'll also see what happens to the underclassmen who were left behind in Lima at McKinley High. (Spoiler alert: The ones with significant others who are MIA do not take it well! Brittany aka Heather Morris was shooting a scene face down sobbing on her bed, presumably because Santana is no longer in Lima.)
For Lea Michele, the storyline split is bittersweet.
"It's definitely been a little sad because I'm used to shooting and being with my friends and the whole group of people," she told me during a break from filming. "But to be able to be on a TV show and be in the fourth season and get to switch it up like this, and have it be so different in season four…It's like, that's awesome."
About a third of the original Glee set has been torn apart to accommodate the New York sets. Will Schuester's (Matthew Morrison) house is gone. And the New Directions choir room, the teachers' lounge, and part of the McKinley High hallway have been shortened (though the change probably won't be visible to viewers) to accommodate the new sets.
In their place are a large NYADA classroom with chandeliers and beautiful arched windows (with an outdoor lighting effect that allows the crew to shoot for day or night), and a spacious loft-style apartment (with exposed beams and brick) for Kurt and Rachel, who'll be shacking up together after Kurt shows up in NYC and convinces Rachel to ditch her dorm.
Lea says there is one upside to the separate worlds. While they aren't shooting scenes together, the New York and Lima sets are side by side, and they do bump into each other from time to time in the halls—or at the "Lima Bean," which is actually a real Coffee Bean & Tea Leaf on the Paramount Studios lot. During lunch, we spotted Heather Morris mingling with Darren Criss, newcomer Dean Geyer and a bunch of kids dressed up like superheroes. (Spoiler alert: Blaine tries to join every extracurricular club imaginable to cope with Kurt being MIA).
"I still get to see everybody, and now it's like, 'I'm so excited to see you!' Instead of like, I've been looking at your face for 17 hours and I love you but I want to go home. Now it's like, every time I see Kevin McHale I want to punch him in the face and like molest him. I just get so excited. I saw Chord [Overstreet] today. It's great and it's amazing. And knowing that I will get to see them and work with them, I'm sure Rachel will go home for a little Christmas holiday, she'll come back to McKinley or come back when they perform. It's all good."