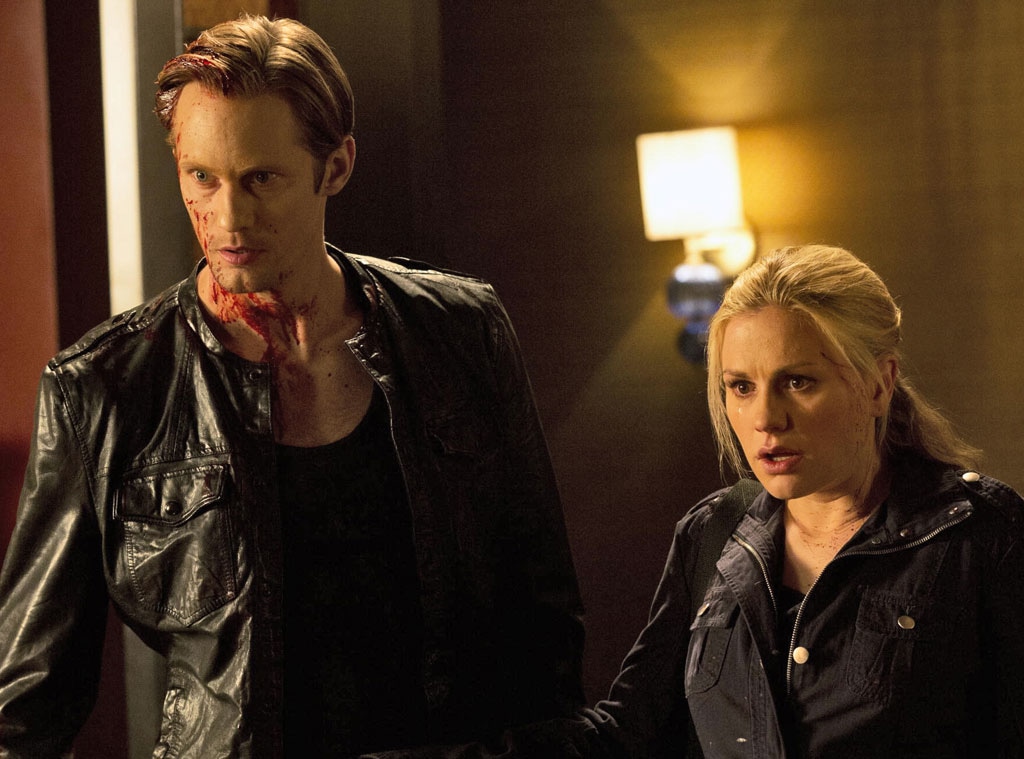 John P. Johnson/HBO
This is it. Season finale time. And if you've been watching True Blood for five seasons, you know everything can go to hell in a hand basket in a mere hour. And it sure did. 
Quick summary: Bill (Stephen Moyer) is a religious nut. Eric (Alexander Skarsgård) is awesome. But which fan favorite died in the first few minutes? 
WHAT WE LEARNED
Goodbye Awesome: R.I.P. Russell Edgington (Denis O'Hare). He was the absolute coolest. Psychotic and power hungry, Russell obviously had to die, but we will miss his perfect speeches and (sometimes) irresistible Southern charm. After some fairy light rays and quick action, Eric finally got his centuries-old vengeance. Eric saves Sookie (Anna Paquin) yet again.
Father of Fairies: It was only last week that Andy (Chris Bauer) slept with Maurella (Kristina Anapau) and found out that he was going to be a father. In one of the more hilarious ridiculous scenes, Lafayette (Nelsan Ellis), Arlene (Carrie Preston) and Holly (Lauren Bowles) are all on hand to witness the miracle of life and Maurella's interesting reaction to birthing and post-labor. Surprise! Andy has four babies and it's the father's job to raise them. Peace out! 
Bill Is the New Lilith: Bill's arc throughout this season has been his path to religious fanaticism. He's slowly and methodically weeded out the competition for top dog in this nuthouse. His final action was poisoning Salome (Valentina Cervi). And if you thought Bill's crazy death explosion was shocking, so was his ascent out of the blood pool. 
Shift and Rescue Operation: Adorable puppy Emma needs some rescuing. While Sam (Sam Trammell) tries to appeal to Bill's non-psycho side, Luna (Janina Gavankar) skinwalks into Steve Newlin (Michael McMillian). Good plan, no? No! Steve Newlin is in a bit of hot water for killing some frat boys and has to go on TV to talk himself out of trouble. Meaning Luna does. But remember this shifting into humans is bad for shifters. Season six consequences, y'all. 
Rightful Place: There's a new sheriff in town. Alcide (Joe Manganiello) finally takes his place as pack leader. He's hot and good at making speeches—he'll definitely do well in his new position. Presuming he doesn't go power hungry like Bill.
Rewind Moment: After some longing looks and a little banter, Tara (Rutina Wesley) and Pam (Kristin Bauer van Straten) finally make out. And there was a very brief Pam and Eric reunion. Presuming everyone survives to next season, we need more of our favorite Maker-Progeny. Pam and Eric have been separated far too long this season, it makes us hurt deep in our hearts. 
ONE-LINERS
"Well, that felt even better than I thought it would." —Eric
"If I want to be a fool, then I will be a fool. It's my God-given right as an American." —Jason
"She's a waitress. A waitress who's saved my life more than once and whose fear vibe very graciously brought me here tonight allowing me to settle and ancient debt.  Thank you for that, by the way." —Eric
"Must all roads lead to f--king Sookie?" —Pam
"That train has already sailed." —Jason (Ryan Kwanten)
"Who knew that watching an alien give birth could be so comforting?" —Arlene
"Abjure this." —Alcide
Did you like this season's crazy finale? Do you think we're all set up for season six? Did they drop the ball on the mysterious other dude after Sookie? Sound off in the comments!
(Originally published Aug. 26, 2012, at 8:29 p.m. PT)