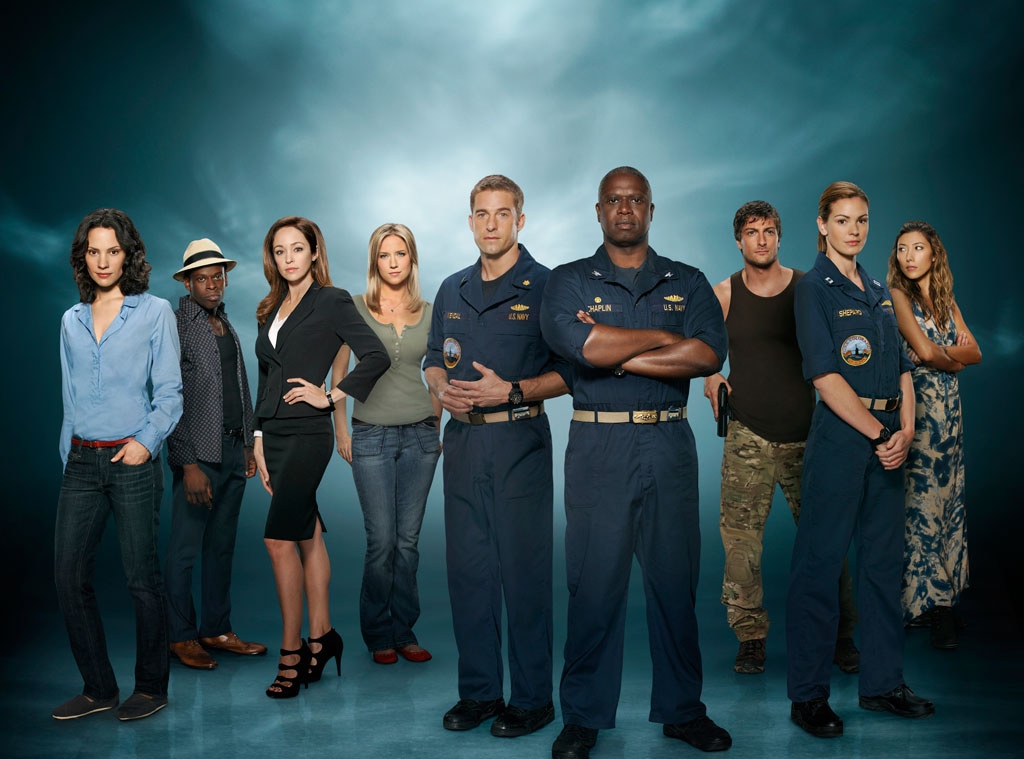 ABC/CRAIG SJODIN
You have been warned. ABC's ambitious action-thriller is really, really great. So great it makes it into our top five picks for fall TV.
This heart-pounding drama holds nothing back in the pilot and still leaves us wanting more. Why does it make the coveted list of our fall favorites? We'll tell you!
Last Resort (ABC)
Premieres: Thursday, Sept. 27, 8 p.m.
Time-Slot Competition: The Big Bang Theory (CBS), Two and a Half Men (CBS), 30 Rock (NBC), Up All Night (NBC), The X Factor (Fox), The Vampire Diaries (CW)
Cast: Andre Braugher, Scott Speedman, Daisy Betts, Daniel Lissing, Autumn Reeser, Camille De Pazzis, Sahr Ngaujah, Robert Patrick, Jessy Schram.
Status: We've seen the pilot episode
Here's the gist of the story: A nuclear missile submarine crew gets (possibly sketchy) decoded fire orders. When they question said sketchy orders they are promptly fired upon. Uncool, super uncool. In order to stay alive they have to rebel. They end up taking over a nearby island—much to the chagrin of the local crime bosses—and send a message loud and clear back home, "Don't eff with us!" Get it? Cool. Meanwhile the U.S. has blamed the downed sub on Pakistan and "retaliated." This is serious drama.
The amazing thing about this pilot is the tension that builds throughout the hour. Starting with a submarine breaking the surface in the middle of enemy waters to save SEALs, it only ramps up from there. And it ends on a most awesome speeches that'll leave you questioning just how crazy Capt. Marcus Chaplin (Braugher) really is. 
Braugher tells us that what intrigued him about this pilot was the storytelling potential. He explains, "Men who go from being absolute patriots, and the very best at what they do, to outcasts and traitors and exiled."
There's something for everyone: political intrigue, a mutiny on The Bounty the submarine Colorado, Scott Speedman aka the homesick XO Sam Kendal, a disgruntled former island mob boss and Dichen Lachman. There are even (hot) shifty SEALs on board for some deep emotional issues and general coolness.  
We've already added Daisy Betts aka Lt. Grace Shepard to our TV girl-crush list; she is so cool and we want to be BFFs with Grace. But she's probably too cool for that. And while we don't even play sub crew on TV, it's nice when the writers trust the viewers' intelligence. By the time you hit the closing credits you'll be a whiz with all the submarine lingo (XO, Cons, etc.).
Because this pilot sets up the premise—everything that leads us to this island life in rebellion—we aren't quite sure what each episode is going to look like. How will the story keep involving those not on the island: Sam's wife, Autumn Reeser's ambitious character and the presumably soon-to-be-ousted naval commander?
We aren't sure, but we're not worried. We'd happily follow creator Shawn Ryan blindly into any TV show. (We already travel everywhere with our Shield box set.) So we're ready to sit back and enjoy the ride. And Scott Speedman's pretty, pretty face.
Our Review in GIF Form:
Verdict: Watch it. Because it's cool and ambitious and everything we always say we want network TV to strive for.
2012 Fall TV Preview: Last Resort