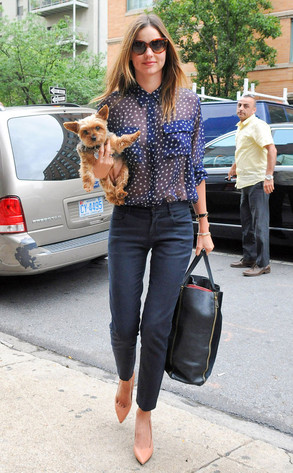 PacificCoastNews.com
Celebrities have had a long-standing love affair with oversized accessories. For some that ardor has even extended beyond It bags to Venti coffee cups. Ahem, Olsen twins.
Miranda Kerr's Celine bag has been a constant companion these past few weeks, looking roomy enough to tote everything from her Yorkie—dogs are exempt from the bigger is better rule—to a laptop and power strip (though, regrettably, seems it wouldn't accommodate hubby, Orlando Bloom).
And the supersized trend is about to blow up even bigger. Your favorite fashion lines are moving beyond room-to-spare handbags to stock their shelves with XL versions of all of this fall's must-have accessories—from belts and bags to sunnies and jewelry.
Find your statement-making piece in our in our 2012 Fall Fashion Guide.
See how this trend can work for you in our Fall Fashion Guide: Bigger Is Better gallery.