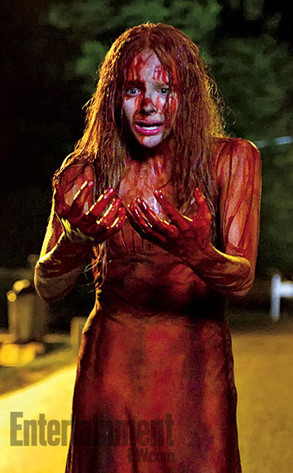 Michael Gibson/EW/MGM
It's a prom night from hell for Chloë Moretz.
The budding young star of such films as Let Me In, Hugo and Dark Shadows is playing Stephen King's favorite telekinetic high schooler in the big-screen remake of his classic supernatural horror tale Carrie.
And like Sissy Spacek before her, the 15-year-old Moretz gets covered in blood—lots of it—as evidenced in this first image from the film Entertainment Weekly obtained, which resurrects the iconic shot from Brian DePalma's original 1976 feature when her teenage alter ego gets drenched in pig's blood after being named prom queen.