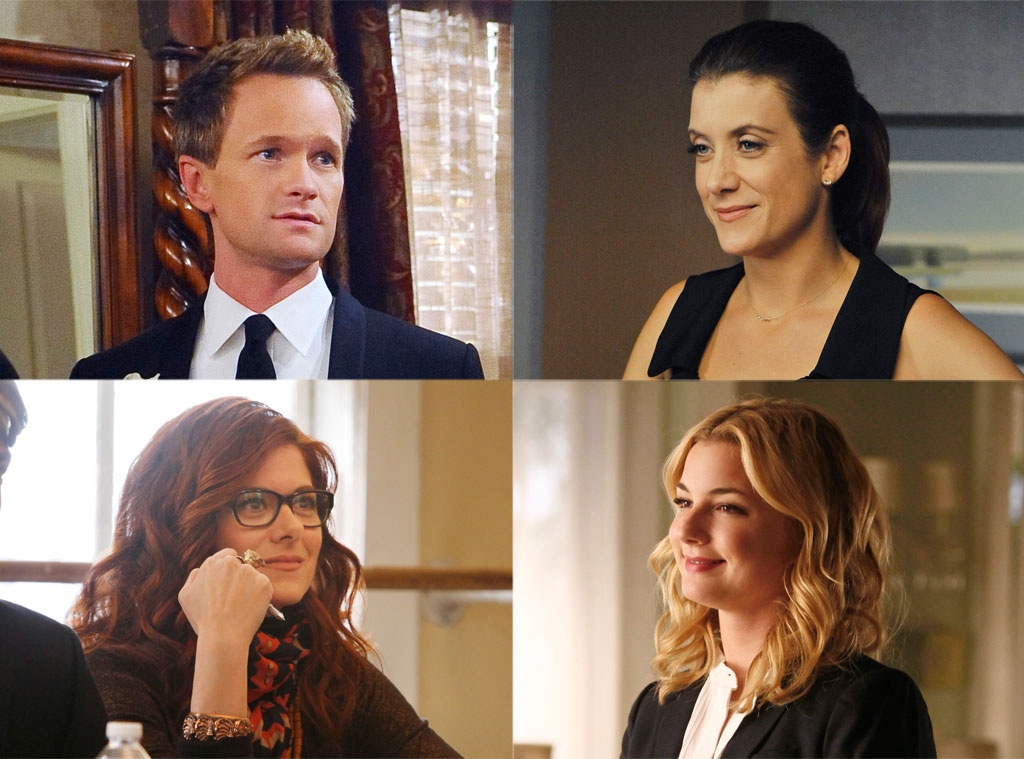 CBS, ABC, NBC
Is it too much to ask that our favorite TV couples just get their happily ever after without too much angst?
Well, when it comes to How I Met Your Mother, that might be too tall an order. We've got some scoop on the season premiere that will once again make Barney and Robin fans want to throw stuff at their televisions. And over on Smash, Ivy may have already found herself a new gig outside of the Marilyn Monroe musical! All that, plus scoop on Private Practice, Revenge and more in today's Spoiler Chat:
Aileen in New York: Please give me good news on How I Met Your Mother's Barney and Robin!
Would you settle for both good news and bad news? Which one do you want first? The good? OK, great! The good news is that in the season premiere, we are still in the flash forward to their wedding day, and Robin and Barney are totally in the same place emotionally when it comes to marrying each other. The bad news? That place is: "I can't go through with this!" And while Ted is trying to talk Robin down, we learn that something important happened before the wedding that could really muck up the whole Barney and Robin relationship. And yes, it does involve Robin and Ted.
Grace: Make like the Hulk and give me some Smash scoop!
While Debra Messing has yet to work with her former Will & Grace costar Sean Hayes, who is appearing in a multi-episode arc on the NBC hit, she spills that he will mostly be sharing scenes with Ivy. "He is playing a TV actor who is coming to Broadway and is going to be acting opposite Ivy." Does this mean our troubled starlet has landed herself a new gig?!
Amanda: I'm finally caught up on Parks and Rec and I am desperate for scoop!
We're just going to dive right in and tell you that we already have our favorite episode of the new season, judge solely on the title: "Sex Education." It's bound to be epic, right? But first, PRex will take over Washington when Leslie and the gang crash the Capitol to visit Ben in the season premiere. "They're really country mice in the big city and we got to work with Sen. [John] McCain and Sen. [Barbara] Boxer and Sen. [Olympia] Snowe, so it was really cool," Amy Poehler tells us. So what's it like to work with John McCain on a comedy series? Awesome, according to Poehler. "I got the chance to work with him at SNL many years before and he's a hoot," she says. "He really has a sense of humor about himself. He's a blast."
Marybeth: I would love some scoop on the new season of Revenge!
Ruh-roh, sounds like someone is in danger, and it's the life-threatening kind! Episode four will find one of our Hamptonites being rushed to the ER, where a cool and calm doc will have to work with the patient's loved ones to make the best decision. Yikes, sounds serious! Please don't pull the plug! Unless it's Declan...then maybe consider it. (We kid!)
Ellen: I'm going to miss Kate Walsh on Private Practice. How will they write her off?
Kate Walsh will miss you too, ma'am, even though she has no fears about leaving Private Practice. "It just felt like it was time to move on to the next thing. It was a difficult decision to make, but I felt like it was time to go and stretch my wings and do some other stuff," she tells us. As for how she'll be written off, Walsh teases that it might come as a surprise for fans. "This season is so good and stellar, and we're doing stuff that we haven't done before but I know people are going to love," Walsh says. "It's really exciting for us."
Connor S.: Lacking Modern Family scoop, Kristin! Help a guy out?
Don't blame us, blame the economy! OK, blame us, but we are fixing it right now. Jesse Tyler Ferguson tells us that Modern Family fans are going to not want to miss the fourth episode of the new season, which they are filming right now. "We actually are shooting an episode this week where Cam and I are sort of switching roles," he says. "I encourage him to maybe go out and get a job to take his mind off of our baby not happening. He goes back to work as a music teacher for kids and I sort of take the reigns and take care of Lily and it goes wildly awry." Something on Modern Family going awry? Color us surprised.
Benjamin: Have any Breaking Bad scoop you'd care to share?
Prepare yourselves for the final episodes of the season as Bryan Cranston tells us, "I think is they keep in mind the title of the show, things are going to go from bad to badder. Things are going to get good." As for the possibility of a Breaking Bad movie, he says, "I don't know the end of our series is going to be. There may not be anyone left alive! My infant daughter is the only one left alive. She'll take it." His costar Anna Gunn says she hasn't been approached about a movie, "but you hear little buzz about it." Fingers and toes crossed!
Kelly in Breckenridge, Colo.: Can I please get some American Horror Story scoop?
Sorry, we're too busy obsessing over these two new and freaking creepy AHS promos to dig up scoop for you. Join us, would you?
Rachel in Detroit: Happy Endings spoilers if you got it!
And we do. Turns out, fans of Dave and Penny getting together are not the only ones who dislike Dave and Alex reuniting. When we visited the set of Happy Endings recently, we witnessed an intense scene happening between Alex and two other people in the group who have some strong opinions about the couple. "[Jane and Brad] think it's ridiculous that I'm in a casual relationship with Dave and obviously they are in a loving healthy relationship," Elisha Cuthbert tells us about the scene. "We're kind of going back and forth about why I like the fact that we're casual and how I think they're ridiculous for being so serious." Sounds a little too normal for an episode of Happy Endings. "And there's a lot of eating involved and some interesting puppets," Cuthbert adds. There it is. Much better.
—Additional reporting by Jenna Mullins and Tierney Bricker
Want your TV questions answered in our next Spoiler Chat? Email them to tvdiva@eonline.com or tweet at @KristinDSantos!