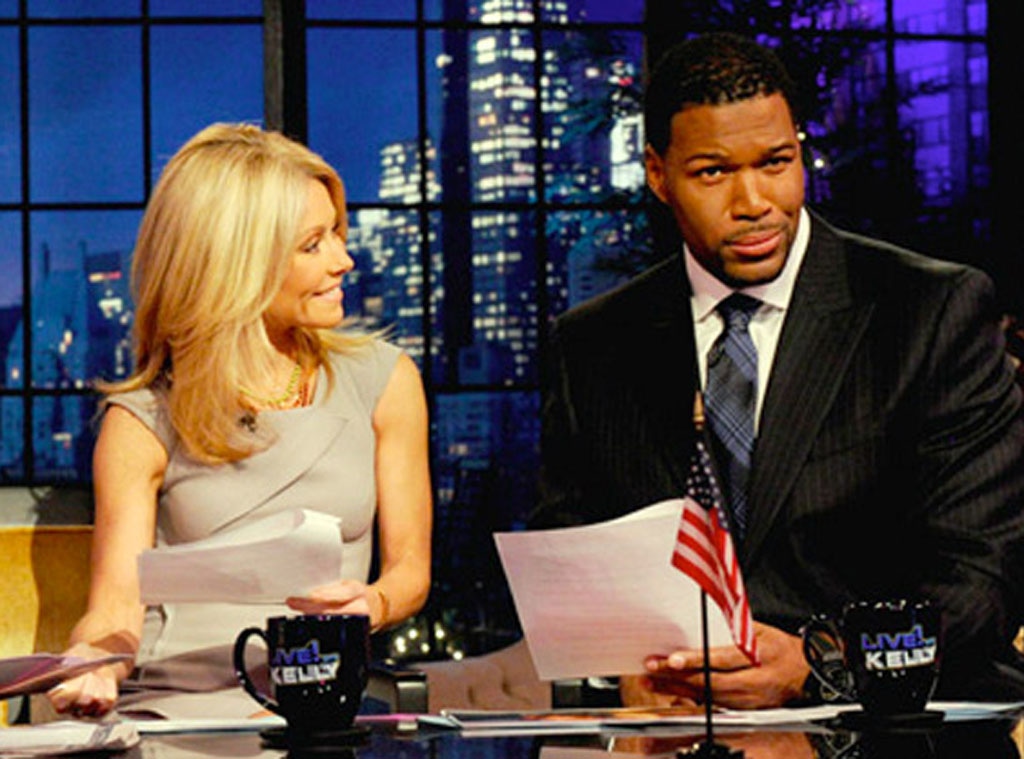 ABC
Regis Philbin has finally been replaced.
Roughly nine months after the veteran broadcaster signed off, former NFL star Michael Strahan has been drafted as Kelly Ripa's full-time cohost on Live!, with the official announcement coming today.
The news comes after several months of fill-in hosts—which encompassed everyone from Ripa's hubby, Mark Consuelos, to Anderson Cooper to Rob Lowe to Seth Meyers—partnered with Kelly following Regis' retirement.
Now, here are five things to know about Ripa's new partner in morning gab, Michael Strahan:
1. This Isn't as Random as It Sounds: Strahan, who spent his entire NFL career with the New York Giants (and won a Super Bowl with them in 2007), parlayed his expertise—and considerable charm—into a successful broadcasting career. He's an analyst for Fox NFL Sunday and, in addition to cohosting the previous two seasons of Spike TV's Pros vs. Joes, he hosted the DIY network's home-improvement show Backyard Stadiums. Strahan filled in for Philbin on Oct. 1, 2010, while the Live! veteran was recovering from heart surgery. He then returned as a guest host on Feb. 1 and has sat in with Ripa multiple times since. A June appearance turned into an impromptu Magic Mike-inspired dancefest!
2. He Can Put Kelly in His Pocket: Looks like Live! is going to need more XXL stools. A seven-time Pro Bowl selection, the 40-year-old former defensive end stands 6-foot-5 and his fightin' weight was 275 pounds.
3. He's a Big Daddy With a Well-Known Fiancée: The twice-divorced Strahan has four kids, including seven-year-old twin girls, and is currently engaged to Eddie Murphy's ex-wife (and mother of five), Nicole Murphy. They just listed their townhome in Hermosa Beach, Calif., for $1.849 million—another sign that he's going to be spending even less time outside New York!
4. He's a Funny Guy: You might have blinked and missed it, but Strahan costarred in the short-lived Fox sitcom Brothers along with Daryl "Chill" Mitchell in 2009. He also guest-starred on Chuck and has played himself in numerous commercials for Right Guard, Subway, Snickers, Pizza Hut, Dr. Pepper and more, most of them with a comedic bent.
5. He's a Good Guy: In 2002, Strahan opened his newly renovated New Jersey mansion for the Junior League of Montclair-Newark to use for a party and tours to raise funds for Junior League's Children at Risk and HomeCorp programs. He and Giants teammate Justin Tuck designed custom sneakers for Nike in 2008, with all proceeds going to Nike's Let Me Play campaign. Strahan also appeared in commercials for PETA and the ultimately successful campaign to legalize same-sex marriage in New York.
(Originally published Aug. 21, 2012, at 6:25 p.m. PT)