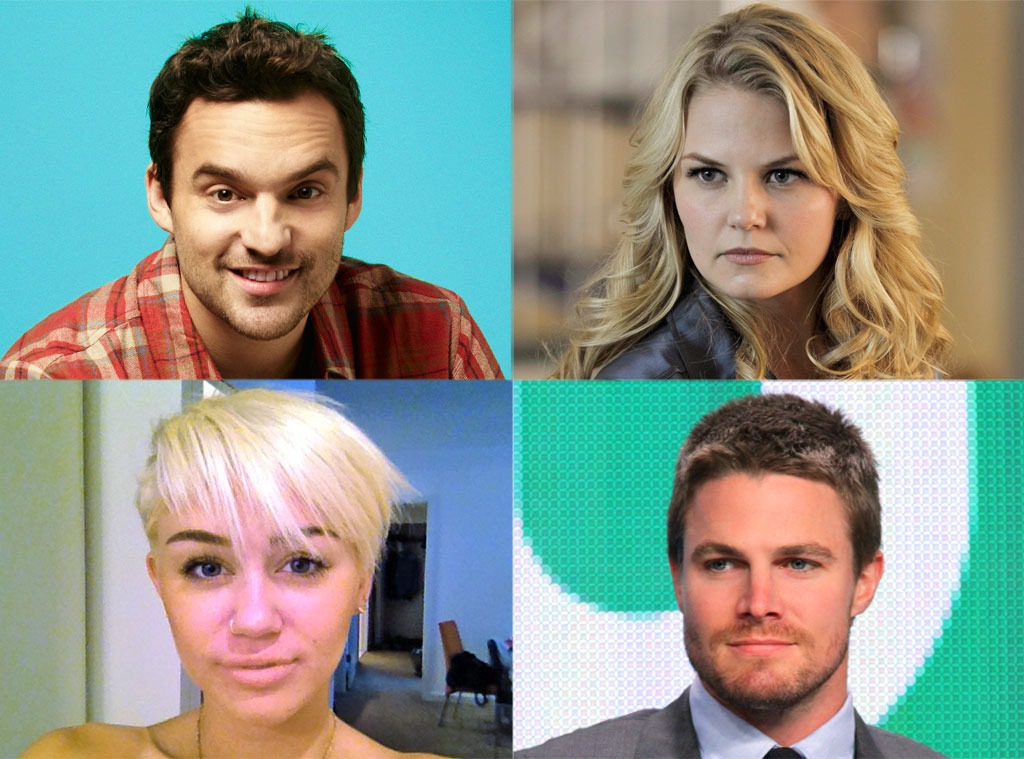 CW, FOX, ABC, Twitter
Comfy sweaters. The leaves turning beautiful colors. Pumpkin-spiced lattes. Football season.
If you guessed that those are all reasons we're excited for Fall, you'd be right! But let's be honest, the numero uno reason we're counting down the days until autumn? Fall TV season, when our favorite shows finally lift their restraining orders and new shows try to impress us. Win-win there, folks!
To full prepare, we're listing out top 50 reasons we're most excited for for the return of Fall TV. Yesterday, we tackled reasons 50-41, and today, we're unveiling ten more!
40. Two Wrongs Make a Right on Homeland: One of our favorite relationships on TV returns on Sept. 30: Homeland's Brody (Damian Lewis) and Carrie (Claire Danes). Individually, they're both deliciously screwed up. And together, they're the most beautiful trainwreck and we can't look away. Here's hoping for another trip to the cabin in season two.
39. Let's Get Bromantical: Confession: Hawaii Five-0's McGarrett (Alex O'Loughlin) and Danno (Scott Caan) are one of our favorite TV couples. Their witty banter gets us every. Single. Time. (And we see those meaningful looks, boys. You don't think that we see them, but we see them!)
38. Fall Fashionistas: What do Revenge's Emily (Emily VanCamp) and Ashley (Ashley Madekwe), Gossip Girl's Blair (Leighton Meester) and Serena (Blake Lively), Happy Endings' three ladies, and Hart of Dixie's Zoe (Rachel Bilson) all have in common? We're obsessed with their wardrobes and can't wait to see what they'll be rocking in the new season. (Well, we all know Zoe will be wearing the formal shorts, obviously.)
37. Once Upon a Time's Charming Family Reunion: We're already crying just thinking about Emma's (Jennifer Morrison) reunion with her parents, Snow White (Ginnifer Goodwin) and Prince Charming (Josh Dallas), on ABC's Once Upon a Time, so we're not sure how we're going to be able to handle the real thing. Probably with tissues. And Chocolate. Lots of chocolate.
36. Stephen Amell's Abs on Arrow: Technically, this should be six reasons, but to be fair, we just grouped these half-dozen beauties together. And good news for comic book fans: The CW's Arrow will definitely live up to your expectations.
35. Will-They-or-Won't They...New Girl-Style: It's the question on every New Girl fan's mind: will Nick (Jake Johnson) and Jess (Zooey Deschanel) get together in season two? Us? We're content to watch the adorable duo walk the line between besties and couple and ignore their chemistry for a little while longer. It burns so good.
34. Greendale Under New Management: While we'll definitely miss former showrunner Dan Harmon's unique voice, we're still ridiculously excited over going back to school with Community. Plus, we'll have another excuse to avoid going out on Friday night. (What more can you ask for from a TV show?)
33. It's Tami Taylor, Y'all: Connie Britton fans, you can all breathe a sigh of relief! The actress is set to go 3-for-3 with her new ABC drama Nashville, the perfect follow-up to her stint as TV's most perfect woman on Friday Night Lights and TV's most frightened woman on American Horror Story. Oh, and she sings now. Is there anything she can't do?
32. Miley-Mania: New hair, new attitude, new gig! Sure, we were surprised to hear that Miley Cyrus would be making her TV return on CB' Two and a Half Men, but that doesn't mean we're not excited to have her back on our small screens making us laugh.
31. Dexter's Rebirth: Oh Dexter, thank you for finally going there. Now that Deb (Jennifer Carpenter) has found out Dexter's (Michael C. Hall) secret, the Showtime hit is not holding back. We've seen the season premiere and it more than makes up for the show's somewhat lackluster sixth season. So make a date with your couch on Sept. 30, this episode is not to be missed.