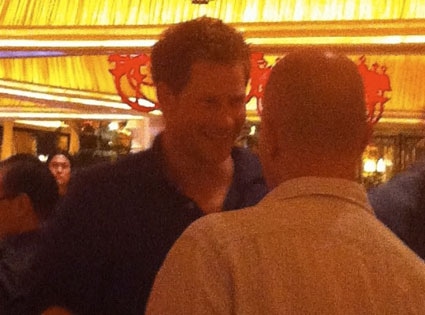 http://instagram.com
Royal City anyone?!
Prince Harry took to Las Vegas, Nev., getting his feet wet at a Sin City pool party for the first time Saturday, alongside numerous other partygoers including Jennifer Lopez, at MGM Grand's Wet Republic.
A source tells E! News that: "It was his first Vegas pool party. He was with a group of around six to seven friends and just wanted to have fun with the boys. He was in town to take a break and have fun."
So how does a Prince do Vegas?
"He was letting loose, and swimming and dancing to the music. It was great to see him acting like any normal guy. Harry and his friends even had a blow up whale in their area, they were just fooling around and joking and having some drinks and just enjoying themselves."
As for whether our favorite eligible bachelor was interested in anyone in particular—including J.Lo—the source adds: "There were some girls in their area, But I didn't notice Harry paying attention to anyone specific...J.Lo was also there—for an appearance. But Harry did not seem to get particularly excited by her presence. He was in his own world with his friends."
We only hope what more of what happens in Vegas for Harry gets back to us!