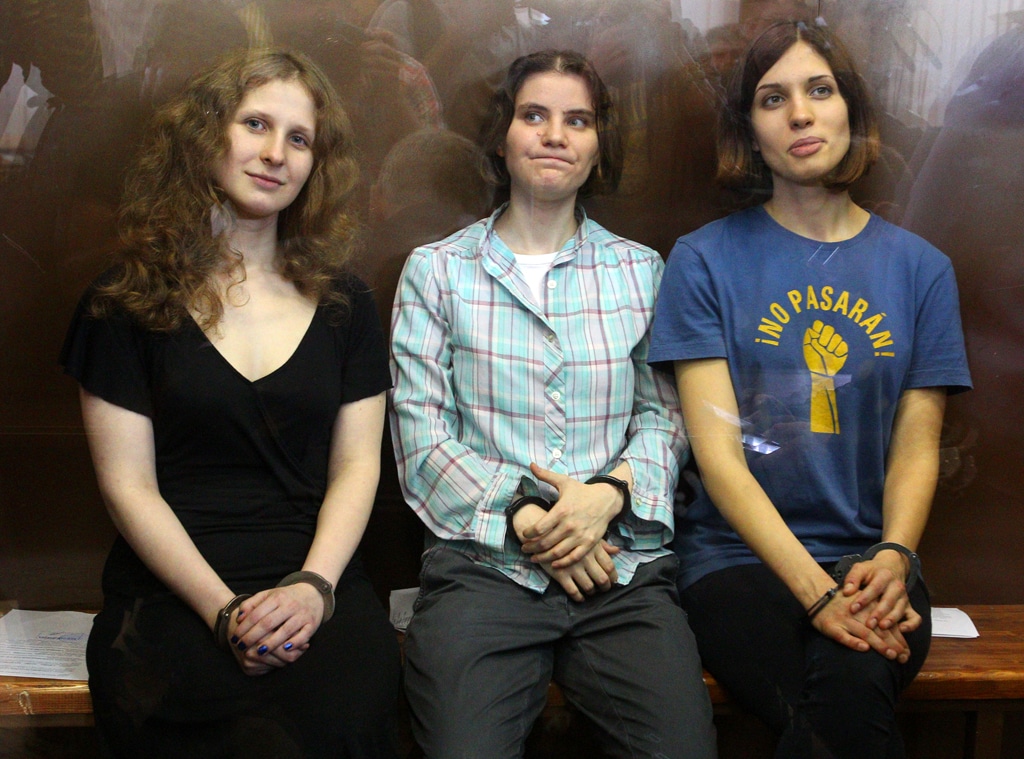 AFP/Getty Images
Pussy Riot's fellow artists aren't taking the Russian band's two-year prison sentence lightly.
While performing in Moscow last week, Madonna applauded the courage of the all-girl punk trio, who at the time were on trial for staging a protest show at a Russian Orthodox cathedral in March. The Material Girl also appealed for their freedom.
But just as Pussy Riot's fitting new song, "Putin Lights Up the Fires," was dropping today, Nadezhda Tolokonnikova, Yekaterina Samutsevich and Maria Alyokhina were being found guilty of hooliganism.
"FYI. We will never being playing a show in Russia as long as they imprison innocent musicians for speaking their minds peacefully," Black Keys drummer Patrick Carney tweeted today upon hearing that the band had been convicted.
"I can't believe sentencing #pussyriot to2 yrs in jail.as someone who lived in Moscow and has filmed& seen inside the jails my heart goes out," tweeted Mischa Barton.
"These girls got sentenced to 2 years in prison for this. I assume we are in agreement that it's not ok. #pussyriot," wrote Adrien Grenier. "Two years in a Russian jail? Geez. That'll give em some song writing material," chimed in former House star Jesse Spencer.
"What a massive disappointment for Russia: imprisoning pussyriot?? Shame on you," Kate Walsh wrote.
"The #PussyRiot sentence places Russia's corruption & repression on a spot-lit global stage. Congratulations Maria, Katya & Nadia: you won," tweeted Franz Ferdinand frontman Alex Kapranos.
"Thanks for the support on my Newsnight appearance. Keep the women of #PussyRiot in your hearts & (punk) prayers," tweeted the Scissor Sisters' Ana Matronic after appearing on BBC Newsnight to talk about the verdicts.
"There are not enough expletives to describe the injustice done to #PussyRiot today.My support is with them.Let's figure out what we can do," wrote singer-songwriter Annie Erin Clark, aka St Vincent.
"#PussyRiot sentenced to two years imprisonment. I don't think it's the last we'll hear of this story," observed Duran Duran's Simon Le Bon.
"The sentence handed to #PussyRiot reminds us how precious freedom of expression is. Russia's judicial system sucks & thats Putin it mildly," tweeted DJ Qualls.
Bill Maher, not surprisingly, used the opportunity to mine both sexual and political humor from the current event.
"Solidarity shout-out to #PussyRiot! I signed a petition in support! Then I found out it was a band," he tweeted, along with, "I see #MittRomney and #PaulRyan have taken to calling themselves America's Comeback Team. Cuz #PussyRiot was taken."
"Shameful, unjust verdict for #pussyriot," noted Portlandia's Carrie Brownstein. "Yet it's a reminder to be fearless, unabashed participants. Sending solidarity. #freepussyriot."
"To counteract bad press RE: #PussyRiot Putin has released a picture of himself shirtless on a Yak, loading a shotgun," offered Veep star Timothy C. Simons.
"Free Pussy Riot feeling it #freepussyriot," Mia Farrow added.
Before the verdicts, Paul McCartney issued an open letter to the trio, encouraging them to stay strong.
"I and many others like me who believe in free speech will do everything in our power to support you and the idea of artistic freedom," wrote the Beatles legend.
Björk wrote on her website (also before the verdicts came down): "as a musician and a mother i would like to express i fiercely dont agree with them being put to jail because of their peaceful protest performance. they are currently standing trial and facing seven years in prison for this.
"in my opinion the russian authorities should let them go home to their families and children."