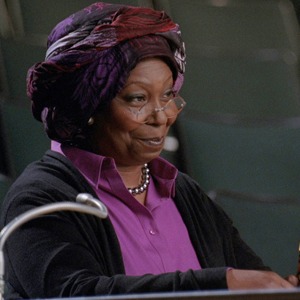 Mike Yarish/FOX
Rachel maybe didn't make the best first impression on NYADA, but thankfully she'll have more than enough opportunities to make up for it.
Whoopi Goldberg will be returning to reprise her role as Carmen Tibideaux, Fox has confirmed to us. She will be billed as a special guest star, and will be around for multiple episodes.
Goldberg first appeared on Glee as the stern and hard-to-please NYADA dean who held the performing arts future of Kurt (Chris Colfer) and Rachel (Lea Michele) in her hands. You might remember that Rachel choked during her audition, but after begging and pleading with Carmen to reconsider and leading her team to a National championship, she was granted admission. And that's what you missed on Glee!
But wait, there's more! The Glee Project's Samuel Larsen is also returning to reprise his role as Joe Hart, who dabbled in a mild flirtation with Quinn (Dianna Agron) last season. He will be joining fellow Glee Project contestant Alex Newell, and according to the new promo, he will be transferring to McKinley High and probably joining New Directions.
The Hollywood Reporter first reported Whoopi and Samuel's return.