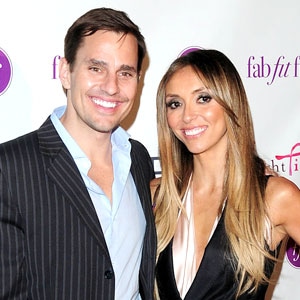 Michael Williams/startraksphoto.com
It's Giuliana, Bill and Baby now!
Bill and Giuliana Rancic welcomed son Edward Duke Rancic at 10:12 p.m. Wednesday night in Denver. Their little boy, born via gestational carrier, weighed 7 pounds and 4 ounces and measured 20 inches.
"Bill and I are blessed beyond words to welcome Edward into our lives," Giuliana tells E! News exclusively. "Thank you so much to everyone who supported us along the way. We are so in love with the little guy already!"
Labor lasted just over four hours and went smoothly and relatively quickly. Both Bill and Giuliana were in the delivery room the entire time, erupting in tears of joy the moment their son arrived. The Rancics say they were "beyond elated" and couldn't believe their journey to become parents is finally complete.
Bill cut the umbilical cord minutes after Edward was born, and Giuliana was the first to hold her son. After cozying up to Edward, she passed the newborn to Bill. Then they took turns feeding the tyke, who they say has a big appetite.
"He is doing incredibly well," Giuliana says, adding that Edward has already had his first bath and that everyone is now resting comfortably.
Bill announced his son's birth on Twitter saying, "The 'Duke' has landed! Edward Duke Rancic was welcomed into the world last night at 7lbs 4oz. G & I feel blessed beyond words...We did it!" That came a few hours after he announced their gestational carrier was in labor by tweeting, "It's Game Time......" 
And what amazing timing! Baby Rancic arrived just in time for the proud parents' fifth wedding anniverary on Sept. 1, right?
With Giuliana on a break from E! News and Fashion Police to prepare for what she and Bill have happily termed their "babymoon," the couple had been staying nearby in anticipation of...well, today!
They celebrated their impending arrival with a "Guess the Sex" baby shower in June, the first time they revealed that they were "beyond excited" to be having a son.
And Denver is special to the couple, who mainly split their time between L.A. and Chicago, for another important reason, as well.
It was a doctor in Denver who they were seeing about fertility treatments that insisted Giuliana have a mammogram. Having been diagnosed early enough, Giuliana is now a breast cancer survivor who has become a prominent spokeswoman about the importance of early detection.
"One of the things we've always tried to do is help others with our story," Bill said on Today in April when they announced they were expecting. "Whether it's with the infertility issues, whether it's with the breast cancer, we said we're gonna turn these negatives into positives. And if we can help others by sharing our story, then it's worth it."
Giuliana told us at the time, "We are so thrilled that our prayers have been answered. We are absolutely ecstatic to be sharing this with everyone who has been following our journey."
(Originally published on Aug. 30, 2012 at 3:46 a.m. PT)