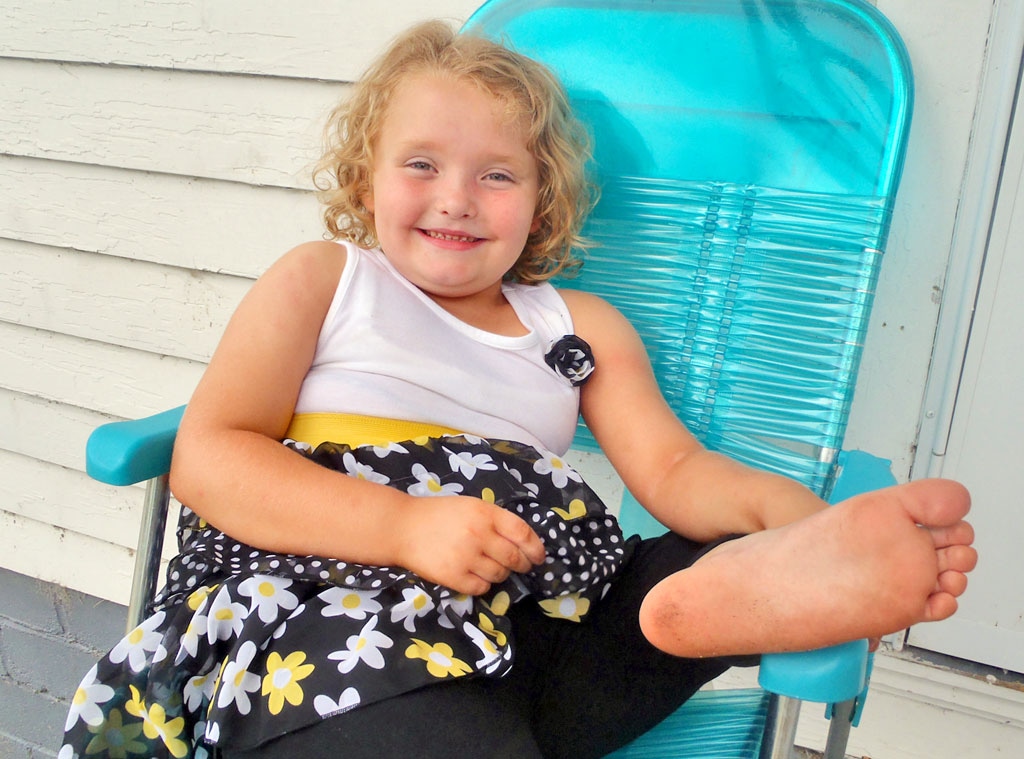 TLC
Mama June and her four not-so-little munchkins had an action-packed week. From taking the whole crew extreme couponing to holding a backyard mud bath to getting the "sandpaper" scraped off their tootsies together, the ladies had a lot of fun and even managed to horrify the local tailor. After Alana left with a new dress for her "gay pageant pig" Glitzy, the tailor posted a "No Pigs Allowed" sign in the window to prevent it from ever happening again. 
But it's not all just laughs and vajiggle-jaggles. The girls' second weigh-in makes them further doubt their beliefs in cheese puffs and recreational bobbing for pigs' feet after they realize they all still have a long way to go. We also get more insight into the deeper dynamics of the Boo Boos, thanks to Mama's poetic analyses of her daughter's pregnancy and her baby daddy's continued inadequacy. 
Oh, and it turns out mama has "forklift foot." That's when your foot gets run over by a forklift and you have to get a pedicure on top of your socks. 
"It Doesn't Take a Rocket Scientist to Coupon": Many people watching this show are probably wondering how they can create their own bomb shelters full of paper towels and Nivea cream, and this week Mama gives them a crash course. First, a note of hope. Pretty much anyone can "coupon," she explains. Not only is it easy, it's fun. Or as Mama puts it, "It's even better than sex." (We also learn by the many toothless frowns from Sugar Bear that that Mama probably is not the most frequent haver-of-sex, but that's for later.) 
While Mama is stocking up on Ramen and other nutritious treats, her daughter presents her with some Solve stain remover. "Mama, it removes your neck crust. You got a lot of neck crust back there." Cue the camera to zoom in. Yep, it's there.
"Rednecks Take a Bath, Waterslide and Mud-Wrestle All at the Same Time": "Heat and big people don't mix. Period," Mama explains. But it turns out that problem solving and big people do, or how else would they have come up with their very own slip-and-slide-mud-shower-wrestling-mat? The girls slide. They crash. They wrestle. They glisten.
"You Do the Do, You Do the Time":  Mama's first child, Anna, is about to give birth to her own little "boo boo," causing Mama to reflect on her own teen pregnancy. It was hard, she admits, saying she will help her daughter raise the child but she's not going to do all the work. Her daughter's baby daddy, just like Anna's, is absent, and Mama's not surprised. "That boy just wanna get in your biscuit." Best keep it in your tin.
"Was It Love at First Sight? No. Was It Bed at First Site? Maybe":  Mama and Sugar Bear go on their first date ever, apparently. They've been together eight years but they've never spent time alone together, so Mama is nervous. She takes the girls to the spa to get their vajiggle-jaggles (faces, apparently) cucumbered and their feet cleaned. Then Alana pats her mom's face until she looks like "a big princess" and sends her out the door.
As they nibble on chicken wings like lovestruck teenagers, you start to feel kind of bad for Sugar Bear. Why is Mama supposedly too good for him? Because of her zany charisma? Or is it because he's, well, toothless? Either way, you start to feel bad for him for being unable to snag her love. After all, he's the only one of her daughters' fathers who stuck around to raise the whole gang, and he was so sweet when he bought Alana her horridly screeching pig. All he wants is a smooch and/or marriage, and Mama isn't having either one.
"I tried to kiss her a couple times and it was not awkward 'cause that's how we do it," he tells the camera, with a pink-mouthed grin. "Hoping to get a little sumpin' sumpin' later." 
We get the impression he spends a lot of time with his hand.
While Mama and Sugar Bear are out on their date, Alana leads her sisters in a massive quest to "decorate" the house with Mama's large supply of toilet paper. It's just the kind of hijinks that don't happen in real life but do when TV producers are around! Mama gets home and sums it all up from a true extreme couponer's standpoint.
"It's crazy right here. Wasting good toilet paper."
ONE-LINERS
"I hope mama don't eat Glitzy. She eats everything else." —Alana
"Elvis is Santa Claus' helper." —Alana
"I set up a little paint on this old barn. Lookin' real good tonight." —Mama before her date
"It felt like I had a baby bottom on my cheeks." —Alana on her facial
"I like the smoochin' part of the dinner." —Sugar Bear still trying to get some
"She gets the shortness from her daddy and the chunkiness from her mama." —Mama on Alana
"She's lucky I didn't poke her!" - Alana, feeling vengeful toward the tailor's pins