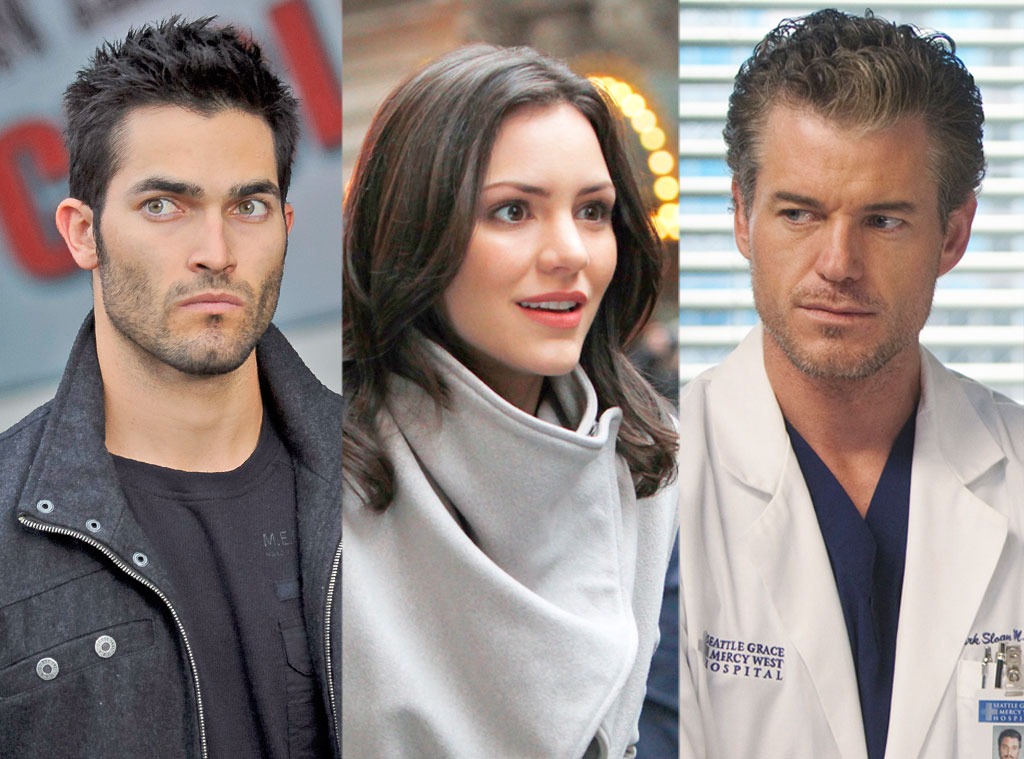 Will Hart/NBC; Paul Abell/PictureGroup/MTV; Randy Holmes/ABC
Is McSteamy becoming McGhost?!
Grey's Anatomy fans were shocked when it was announced that Eric Dane would be leaving the hit ABC series and speculation soon began on how his character would exit. We chatted with one of his Grey's costars about McSteamy's goodbye. (Hint: buy some tissues!)
Plus, we've got scoop on Smash's second season, Community's upcoming fight, Private Practice minus Tim Daly, Derek's love life on Teen Wolf and so much more...
Tamie in St. Louis: I can't take not knowing if they are killing Eric Dane off Grey's! Any idea what the plan is?
Well, we're not going to sugarcoat it, but when we spoke to Chandra Wilson, it didn't sound good. Mostly because she was talking about taking care of him and "stroking" him (we assume his face) in the beginning of the season. "I really appreciate the way that we have taken care of him in the beginning of the season," Wilson tells us. "I think it's something that Grey's fans will really appreciate. We get to stroke him a lot in the beginning of our season." However, she assured us that someone who is gone from the show will not be forgotten. "It doesn't matter if the characters aren't there anymore. We just talk about him all the time!" she laughs. Let's hope they aren't using past tense when talking about McSteamy.
Ben in Chicago: I've been missing your Smash coverage! Cannot wait until it returns, so can I have a bit of scoop for now to hold me over until 2013?
Doesn't the second season of Smash seem so far away? It's unbearable…until we wiggled our way onto the set and got some awesome scoop! More on that later, but for now, here are some tidbits we can reveal: a mosh pit, an unexpected relationship between Jennifer Hudson's character and Ivy, Tom large and in charge and finally…Karen is in looove!
Faith: I will take anything you have on Once Upon a Time!
You know how we've been pushing for Joanna Garcia to play Ariel since pretty much the beginning of time? Well, we are happy to report that our favorite TV redhead just might make this happen. "That show is exceptional. Jennifer Morrison is one of my dearest friends," Garcia tells us. "I would love to do the show. I just think the show is incredibly crafted and well-acted. The masterminds behind it are so extraordinary. I would love to do it. It's on my wishlist!" Awww, the magical world of Disney characters makes everything better, right? Speaking of, check out this awesome D23 featurette of the OUaT cast talking about their love of Disney!
Paul Abell/PictureGroup/MTV
Brittany: Derek is my favorite on Teen Wolf! What's coming up for him in season three?
You can expect to see a big change in the Alpha when the MTV hit returns for its third season. "He definitely needs to redeem himself. He'll definitely be a different guy when we find him again in season three," executive producer Jeff Davis teases. "There are bigger twists in store for him and possibly some romance too." While he wouldn't say who Derek's love interest might be, we're putting our money on Erica.
John B. in Los Angeles: Got any juicy Community scoop?
It's funny you should use the word "juicy." Someone from the study table will be Jell-O wrestling a girl…and it gets very, very physical. And not in a good way. Any guesses as to who's entering the Jell-O ring? We'll give you a hint: It's one of the guys.
Tessa: According to my calculations, you haven't given us any Big Bang Theory scoop lately. Please fix that...pronto!
You got it. If you're a fan of Amy and Sheldon, you might want to prepare for a future rift between the two. We hear that when Sheldon looks for an assistant, the one he eventually hires turns out to be quite flirty and overeager to flatter our favorite geek. Sure, she comes off as an innocent girl from Iowa, but something tells us she'll know exactly what she's doing.
Beth: I'm so bummed that Tim Daly won't be back on Private Practice. Will his exit be addressed on the show?
We're sad to see him go, too, and yes, his absence will definitely be felt on the show, especially by Violet. "My character at the beginning of the season, it's all about loss," Amy Brenneman tells us. "Tim is not coming back, and that's pretty much what I'm dealing with." As for Daly's exit, Brenneman says, "It's like life. People come, and then they go, and then [they] write to it. It gets to be like real living."
Cece: I'm so sick of the Liam-Silver-Navid love triangle on 90210! Is there any hope for us Liam and Annie fans?
There's always hope! At least, that's what Matt Lanter says of the fan-favorite couple's future. "I didn't know there were so many Liam and Annie fans! Every time Liam tries to get together with some other girl, all I hear about is Liam and Annie on my Twitter and stuff," he says. "I think there is always hope for it. We'll see how long the series runs. Maybe they'll get back together in the end of the series. We got to wait for it!" We advise against holding your breath, people, it may be a while!
—Additional reporting by Jenna Mullins and Tierney Bricker
Want your TV questions answered in our next Spoiler Chat? Email them to tvdiva@eonline.com or tweet at @KristinDSantos!