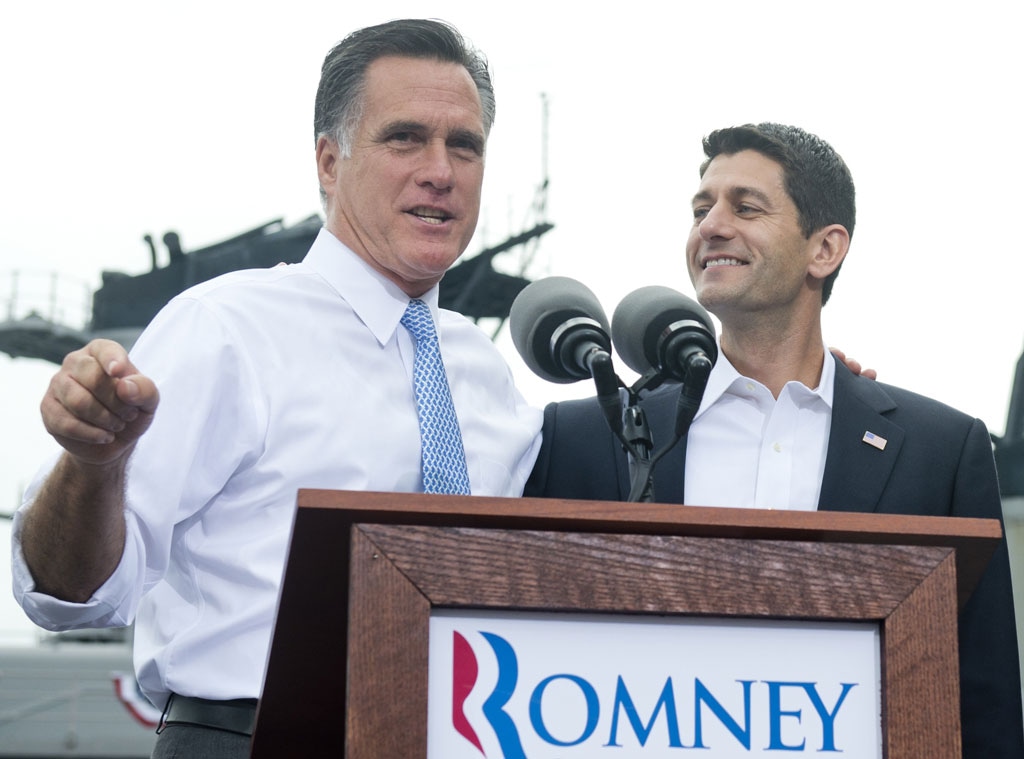 SAUL LOEB/AFP/Getty Images
Mitt Romney is so confident in his new running mate that he accidently called him the "next President of the United States."
The Republican presidential nominee made the gaffe while introducing veep candidate Paul Ryan Saturday morning during a rally in Norfolk, Va.
"Today's a good day for America, and there are better days ahead," Romney said, according to ABC. "Join me in welcoming the next president of the United States, Paul Ryan."
After his D'oh! moment, Romney quickly returned to the podium with Ryan, telling the crowd, "Every now and then I'm known to make a mistake," Romney said. "I did not make a mistake with this guy. But I can tell you this. He's going to be the next vice president of the United States."
The Wisconsin House Budget Committee chairman is considered to be a "high-risk, high reward" pick for Romney, according to ABC, considering the congressman made waves when he attempted to "drastically alter" the federal Medicare program with his "Path to Prosperity" plan, which virtually ends Medicare's fee-for-free service model. 
So, just who is Paul Ryan (outside of the political realm)?
The 42-year-old congressman has a thing for wrangling catfish (with his bare hands!), according to People, is a bit of a "gym rat" and once worked the grill at McDonald's. 
Following the announcement, celebs headed to Twitter to share their reactions to Romney's pick.
Eva Longoria: With Romney and Ryan, the choice for women, students, veterans and the middle class couldnât be clearer: ‪#Obama2012….Romney's VP pick voted against equal pay for women and repeal of Don't Ask, Don't Tell. We can't go backward.
Adam Shankman: I will, OF COURSE b speaking up. watching the dust settle 4 now. I will say: everyone MUST vote Nov 7th. Now, its literally life or death.
Andy Richter: I think saying "worst recovery in 70 years" is kinda cute. Doesn't at all beg the phrase "worst recession in 70 years." 
Michael Moore: Channeling Bush, war supporters/military dodgers Romney & Ryan insult those who served by using battleship as their prop.
Kal Penn: This is awful. I was hoping it would be Jindal so I could play him in the HBO movie.
Danny Zuker: Bold. RT @MittRomney I am proud to have @PaulRyanVP as my VP because he GENUINELY believes the crazy shit I PRETEND to believe.
Michael McKean: Ryan says Ayn Rand was his inspiration to enter public service, which is a little like Ray Kroc inspiring a career in nutrition.
Russell Simmons: Mitt Romney and Paul Ryan, two men who will destroy our people...PLEASE RETWEET
Michael Ian Black: With this choice, Paul Ryan immediately jumps to frontrunner status as the 2016 Republican presidential nominee. Congrats.
Rupert Murdoch: Thank God! Now we might have a real election on the great issues of the day. Paul Ryan almost perfect choice.
Suzanne Somers: ‪@MaryBonoMack he is an excellent choice.