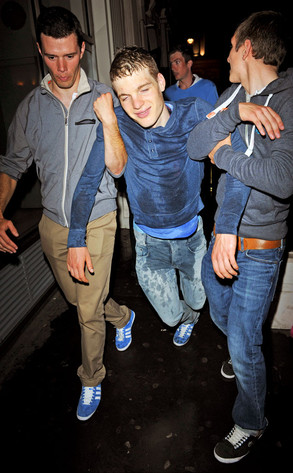 XPOSUREPHOTOS.COM
What happens in London...well, it doesn't stay there. In fact, billions of people around the world will find out what happened! Which didn't exactly bode well for Belgian cyclist Gijs van Hoecke, who was asked to leave the Olympic Village after drunken pictures of him surfaced.
It's no secret that athletes love to let loose after their events end (right, Ryan Lochte? Jeah!), but 20-year-old Van Hoecke was perhaps a bit, uh, overserved before being carried out of a club covered in unknown liquids (which could be pee, right, Ryan Lochte?!).
The Mirror published the pictures of Gijs' teammate, Jonathan Dufrasne, carrying him out of London's Mahiki club to a taxi, a voyage that included stumbling, drunken smiling and loads of flashing bright blue undies.
The British tabloid awarded him a gold medal for best Olympic partying (for the record, he placed 15th in his actual event, the men's omnium). A gold's a gold, right?! Especially if it happens to be Goldschläger.