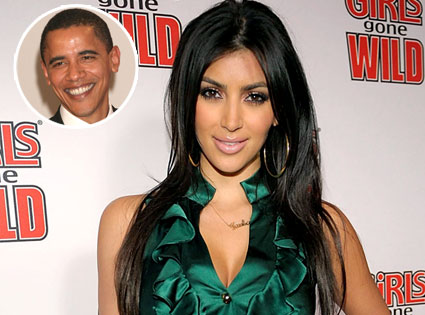 Charley Gallay/WireImage.com, Paul Fenton/Zumapress.com
Barack Obama just scored another Hollywood endorsement.
E! reality star Kim Kardashian is backing the Illinois senator in his bid for the White House. She revealed her support last night at the launch party for ex-jailbird Joe Francis' Girls Gone Wild magazine at Area nightclub in L.A.
"I had dinner with him [Obama] once, and he just seemed very firm about the change, and that's, like, his motto," Kardashian said, referring to the slogan "Change We Can Believe In."
Wait a second! Obama and Kardashian had dinner together?
Not exactly. When asked for more details, Kardashian quickly clarified, "It wasn't just him and I. I was at an event."
Kardashian's stepbrother Brody Jenner, the Hills reality hunk, recently told me he's for Obama, too.
Meanwhile, Francis is keeping mum on who he wants as our next commander in chief. When asked which candidate he's voting for, the porny peddler said, "I can't tell you!"
How about if we flash him our privates?
On the other side of town, Jamie-Lynn Sigler got political during a party at Fred Segal in Santa Monica. But she wasn't exactly thinking about the presidential candidates. She took home two limited-edition Svedka vodka rhinestone-decorated T-shirts emblazoned with "Make Cocktails, Not War." Sales of the Svedka line benefit environmental group Heal the Bay.
—Additional reporting by Laura Lane
Click below to hear what Kardashian had to say about the new Miley Cyrus racy photo controversy.