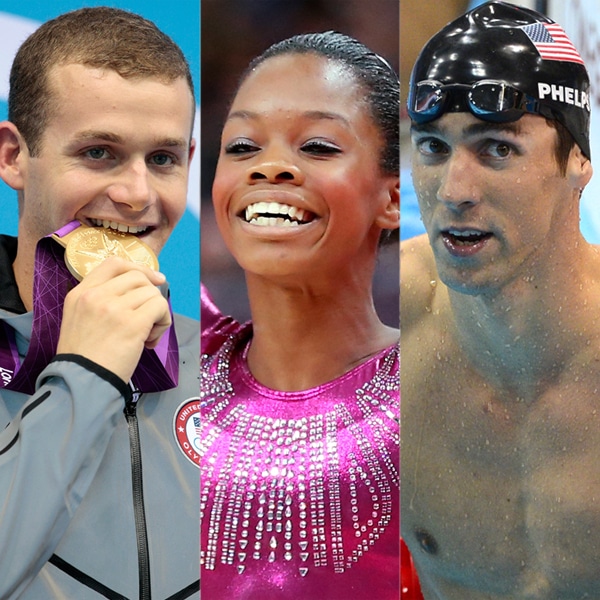 Adam Pretty/Getty Images; Streeter Lecka/Getty Images; LEON NEAL/AFP/Getty Images
Is Michael Phelps about to become super-rich? What about Gabby Douglas or the rest of the medalists?
—Eric E., Colorado, via the inbox
Gold around the neck does not always trigger gold in the bank account, I'm afraid. Sure, Michael Phelps is probably set for a while, at least, and Ryan Lochte is reportedly angling for a slot on Dancing With the Stars. (Or some other TV gig.)
But you may want to consider a KickStarter for your fave Olympian if he isn't a household name by now.
According to Evan Morgenstein, the PMG Sports agent who reps gold-medalist swimmers Tyler Clary and Cullen Jones, "F--- yeah, the Olympics makes athletes indentured servants."
In fact, he tells me, we're talking "less than $3,100 a month for the best swimmers in the world," before or even after the Games are over.
"They're poor unless they hit gold," Morgenstein explains. "But even if they do, it's no guarantee of riches and fame, what with 30-plus gold medalists in the U.S. alone. You need a story, looks and an opportunity to break through."
That poverty extends to other sports as well. According to a survey conducted by the USA Track and Field Foundation, only half of U.S. track and field athletes who are ranked in the top 10 in the nation in their event earn more than $15,000 annually from their sport.
And, of course, many of those folks never even make it to the Games, and a chance to compete for up to $25,000 per medal.