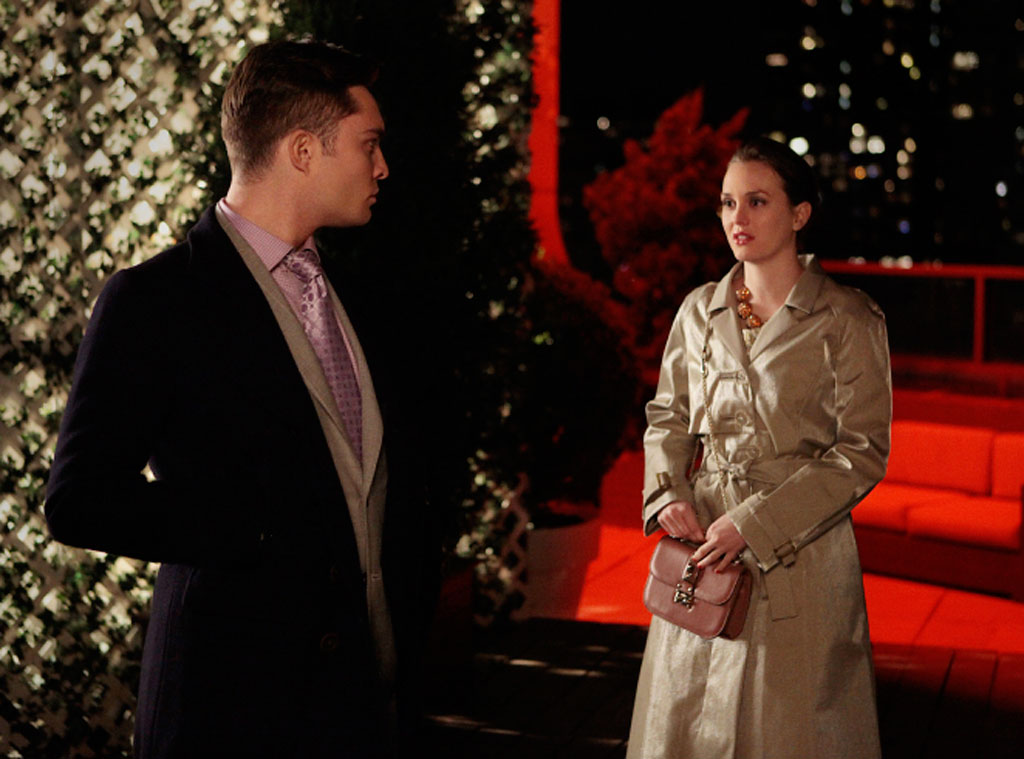 GIOVANNI RUFINO/The CW
Will they or won't they Are they or aren't they?
That is the question on every Gossip Girl fan's mind when it comes to the show's core couple Chuck and Blair—are they back together when we catch up with them in the season six premiere? Details about the CW soap's final season have been slim, but lucky for you, we've got some pretty juicy scoop on the status of Chair's relationship. (Feel free to send us boxes of chocolates and/or roses at any time.)
Plus, we've got scoop on Revenge, Glee, Hart of Dixie and more in today's Spoiler Chat...
Wrightst3: Is there any truth to the rumor that Chuck and Blair will try to keep their relationship a secret?
There's good news and bad news here, Gossip Girl fans. Let's start with the bad news, shall we? Chuck and Blair are not officially dating at the start of the sixth and final season. (Boo, hiss!) But the good news is they both aren't dating anyone else. At all. Why? Because they've agreed to focus on their individual needs first, so when they do officially get back together, nothing will stand in their way. In short, Chair is together, but not together at the same time.
Kirby in Phoenix: Anything on Glee's new season that Ryan Murphy hasn't tweeted about?
The third episode back will revolve heavily around some serious ballerinas in New York City. We're not sure if they'll be rivals of Rachel's or friends, but it's possible that the new ballet gals could be sticking around for longer than an episode. And plié!
Erin: I need some Zoe and Wade scoop! What's coming up for my favorite Hart of Dixie couple?
You may want to look away, Zoe and Wade fans, 'cause we don't have good news for ya as it looks like Zoe will be going on a date with a smart and handsome guy named Zach, who happens to be the cousin of her new friend Ruby (played by Girlfriends actress Golden Brooks). In case you weren't sold on the smart and handsome part, Zach is on town to check in on the environmental clean-up. What a catch! However, we're hearing Zoe might be a tad distracted on their date. (Could that distraction just happen to have washboard abs?)
Matt: What's this I hear about Nolan getting a new love interest on Revenge?!
Yes, our favorite billionaire genius is getting a love interest (a female one, by the way!), and if Gabriel Mann had his way, Nolan would have more than one. "The more, the merrier! I mean at this point, Nolan has established nothing is off limits, so I hope for a panning shot that comes from the end of the bed and strangely there are eight set of feet in there!" As for non-romance scoop when it comes to Nolan? Well, prepare to see a different side of him. "You're going to see a little bit of a transformed, bigger, badder Nolan of sorts," Mann teases.
Adam in Venice, Calif.: Got any Nikita scoop?
In episode four, which is forebodingly titled "Consequences," we'll meet a former Division agent who is working for Amanda and Percy. She's cool, intimidating and an incredibly dangerous agent that Nikita should not cross paths with.  But of course, she probably will, and something tells us that this new foe will be around for a lot longer than we'd like.
Harold: Got anything on Grimm?
The Portland police are getting an intern! Grimm fans will meet the eager Rick in episode eight and can expect him to stick around for several episodes. Now go fetch Nick and the rest of the precinct some coffee!
Beckie: Happy Endings scoop! You know I need it.
What a coincidence, we were just on the set of Happy Endings! Remember when we told you one of the gals ends up in a full body cast? Well, now we can reveal that it's poor Penny who ends up breaking almost every bone in her body. But don't worry, her best friend Max will be by her side to help her in her time of need...and to try and hook up with someone related to her recovery. As for unlucky in love Penny, it seems like she might be getting a second chance with someone who got away. Brian Austin Green will be reprising his role as Chris, the wedding guest who wooed Penny over Skype. Ah, love is truly in the air over at Happy Endings.
Jess: I'll take one serving of 90210 scoop, please!
Things will be heating up in America's hottest zip code in season five. How do we know this? Well, an experienced, Dita Von Teese-style burlesque artist, aptly named Vesta, will be popping up on a recurring basis and it seems footage of two people doing the nasty at a club is going to get out. Yikes!