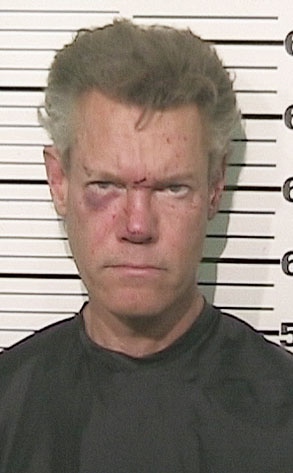 Grayson County Sheriff¹s Office
Let's call this a drunk déjà vu.
Less than six months after getting arrested for public intoxication, country crooner Randy Travis was busted Tuesday night in north Texas on suspicion of driving while intoxicated after crashing his car, E! News has confirmed.
So what went down this time?
According to local authorities, Grayson County police responded to a call at 11:18 p.m. alerting them to a man, later identified as Travis, found lying on the street in Tioga, Texas.
Upon arriving at the scene, cops discovered that the singer had been involved in a single-vehicle accident and determined that he had been drinking. He was also found naked, "When troppers arrived on the scene, Travis was not wearing clothing," Tom Vinger of the Texas Department of Public Safety tells E! News.
Travis reportedly refused a blood and breath test and allegedly threatened to shoot and kill officers while he was being transported.
A judge subsequently ordered Travis to submit a blood sample, which was taken at a nearby hospital. The Grammy winner was arrested for driving while intoxicated—a misdemeanor—and retaliation, a felony stemming from his alleged threats against officers.
The Grayson County District Attorney's office tells E! news they will not fomally charge Randy for another three-to-four weeks because they will need to obtain and process the blood samples. Only then will a court date be giving for a hearing.
Back in February, Travis was arrested for public intoxication in Dallas after an officer spotted his car in a parking lot past midnight and found the slurred-speeched singer inside, along with a bottle of wine.