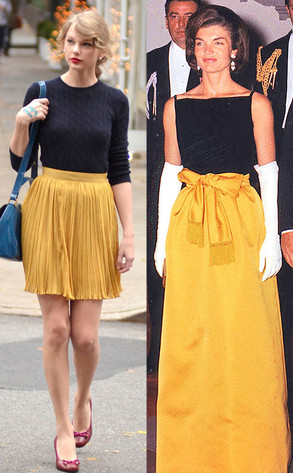 Alo Ceballos/FilmMagic; Kennedy Library Archives/Newsmakers
Has Taylor Swift been taking notes from the Kennedy style book?
As we told you, the 22-year-old country cutie recently started dating Robert Kennedy Jr.'s 18-year-old son Conor Kennedy. The lovebirds have been spending lots of quality time together all over New England and Conor's grandmother Ethel Kennedy has even taken a liking to Swift.
And now that it seems Swift may very well be on her way to becoming a Kennedy, we couldn't help but notice that the singer has been channeling the über famous fashions of Jacqueline Kennedy Onassis for quite some time now.