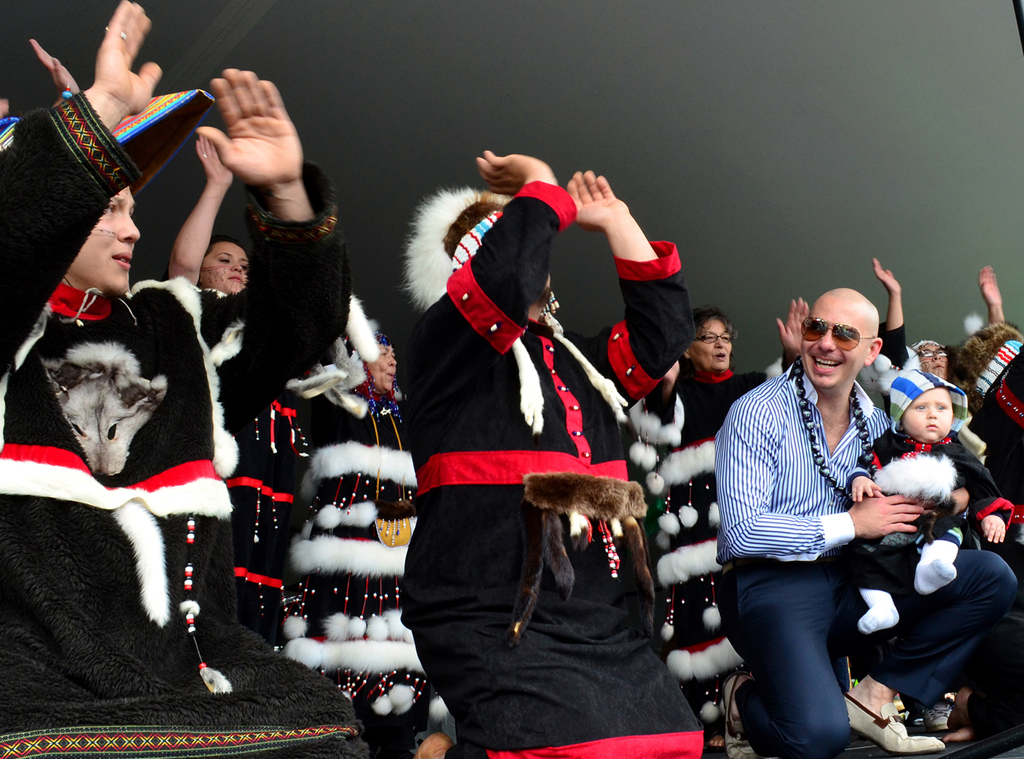 AP Photo/James Brooks, Kodiak Daily Mirror
Talk about your Kodiak moments.
Pitbull met with residents at a Walmart in the small (population 6,130) Alaska town today—a stop Mr. Worldwide probably never thought he'd be making until a promotional campaign with the big-box store, in which he agreed to appear at the Walmart with the most "likes" on Facebook, became the target of a concerted effort to "exile" the rapper.
But it appeared to be a win-win situation as the "Give Me Everything" rapper performed at the local Coast Guard base and posed for photos, the fans being the unwitting winners after Boston Phoenix writer David Thorpe started a Twitter campaign to get Pitbull as far off the beaten path as possible.
"Thank U Kodiak ... I am honored, truly," Pitbull tweeted today along with a photo of him posing with a member of Kodiak's infant population during a ceremonial performance by Alutiiq dancers.
And the Miami-born Pitbull (real name Armando Cristian Pérez) is apparently one who can take a joke, because he invited Thorpe to join him.
"Pitbull just shouted me out in front of like... HUNDREDS of people," the writer tweeted as the artist greeted the crowd.
"'Keep your friends close, and your enemies closer.' Sun-tzu ;)" Pitbull tweeted playfully in response.
Walmart, meanwhile, ensured that Pitbull didn't have any run-ins with enemies that might not be so eager to pose for a hug and a picture.
Noting that the rapper had marveled over the store's bear-protection kits at the Kodiak location, Walmart made sure he left with some signature Kodiak swag—a care package including bear repellant and bear bells, which hikers use to scare off the more timid bears in the wilderness.