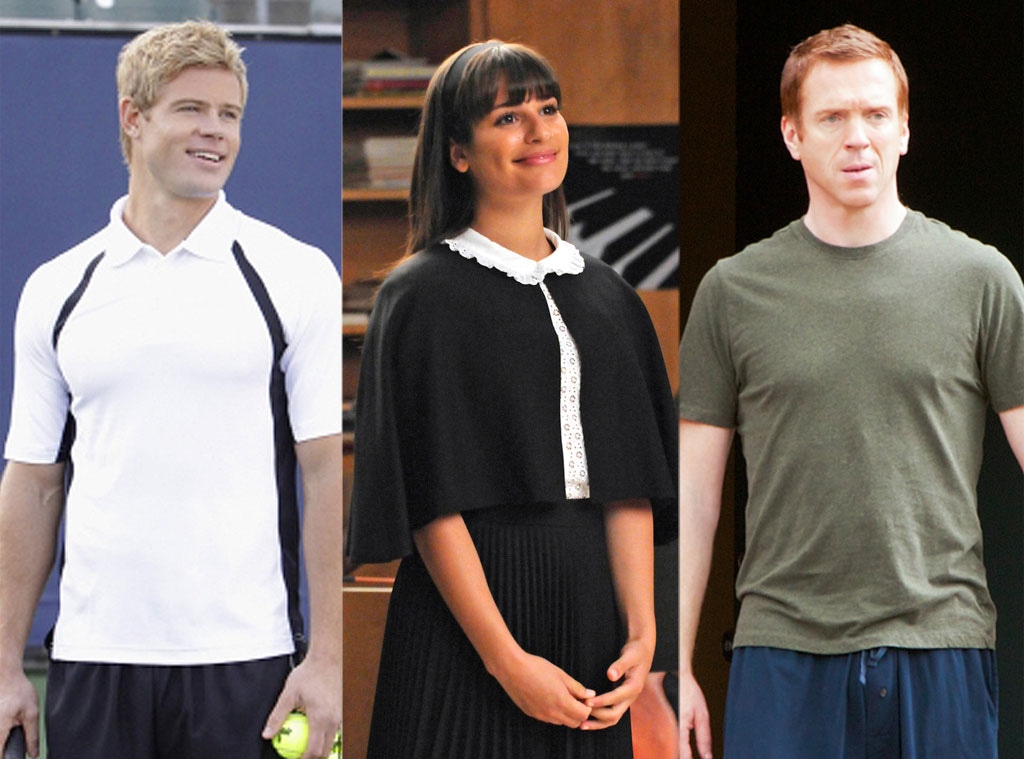 Michael Desmond/The CW; Kent Smith/SHOWTIME; Fox
It's time to find a new voice, Glee fans.
A new lead voice, that is. Yes, New Direction's has a Rachel-sized hole to fill at the beginning of season four and we've got some inside scoop on the Gleek set to take over the lead vocalist reigns. Oh, and we can also tell you the exact location of American Horror Story's highly-anticipated second season and just how much of Trevor Donovan you'll be seeing on 90210 come this fall.
Plus, we've got scoop on a fan favorite CSI: NY pairing, Homeland and Body of Proof's new seasons and more!
Craig: Any scoop on the new season of Revenge? I'm counting down the days!
The head of Grayson Global will be getting a new lady love! Though her identity is currently under wraps, "Conrad's love interests com and go depending on how they respond to Conrad," Henry Czerny teases. "You have to be aware that if you're going o be a love interest with someone who has seemingly unlimited means to do whatever he wants." Oh, and Czerny confirms to us that Lydia definitely died in the plane crash. Bummer City, population: no one. Still, there's always flashbacks, Czerny says. 
Joanna: I feel like we're only getting scoop about Rachel. Can you tell us anything about what's going on at McKinley in season four?!
We sure can, but it has to do with Rachel (Lea Michele) kind of. Glee's premiere episode will find New Directions looking to rebuild the group after losing the seniors. Task number one? Finding their new Rachel aka the lead vocalist. We happen to know who it is, and we think fans are in for a surprise. One person we can rule out? Brittany (Heather Morris).  
Rory: Desperate for Homeland scoop!
We share your feelings of desperation, so bless Morena Baccarin, who was kind enough to give us some season-two info to tide us over until Homeland returns. "It starts off in a very different place," she says. "Jessica has been excited by Brody's political career and she's finding a little bit of her own ambition in that and finding a purpose. Also, the life of the family is torn apart a little bit by his inability to be upfront with her about what's really going on with him." 
Daniellegirli: Please give us some details on CSI: NY 4th episode!??! Will we see a concerned husband in Danny?? Pretty please!
Yes, you sure will. Executive producer Pam Veasey tells us that Lindsay's (Anna Belknap) injury will lead to some great Danny (Carmine Giovinazzo)-Lindsay moments in the fourth episode. And a special bonus we'll be seeing their adorable daughter, Lucy, again.  
Sarah: 90210 scoop is much-needed!
Aussie alert! The CW soap is looking for a ruggedly handsome and geeky (the perfect combination, no?) Australian to come in and swoop one of the main girls off her feet for several episodes. Also coming in is Kendall, an actress looking to jumpstart her career with publicity stunts. Something tells us Liam (Matt Lanter), a fellow thespian, might get into trouble with this one! Not enough 90210 scoop for ya? We're hearing Trevor Donovan will return for at least three episodes, including the big 100th episode (the eighth of the season), as fan favorite Teddy. Wheeee!
Nina: I'll take any new information on American Horror Story!
Up until now, we have only been told that the new season will take place in New England. We can now be a bit more specific when it comes to the sanitarium's locale: Boston! Get ready to judge everyone's Boston accents! 
Lucille: So will Dave and Alex be together when Happy Endings comes back?
According to Elisha Cuthbert...kind of. And it'll be ridiculous. "I want to see what [their relationship] brings," she tells us. "I think us being together could be a little cuckoo pants, too. Dave gets so committed to things and I am so obnoxiously enthusiastic about everything that it is just going to be weird and it's going to be fun." But what will the group say about their back together-ness?! Dramaaa!
Diana: You've been lacking on the Body of Proof scoop! You know how much we love our Dana Delanyy!
Oh, we certainly do. Which is why we made sure to get you guys some spoilers on the new season directly from your favorite lady. "I have a new love interest coming in," Delany spills to us. "I saw a screen test from someone yesterday. Fingers crossed he'll be on the show. He's my personal favorite." Any guesses on who the mystery man is, Body of Proof fans? Either way, the new season will surely be intense, to say the least. "There are going to be much higher stakes," she says. "A lot more danger involved. It's going to be a rollercoaster ride."