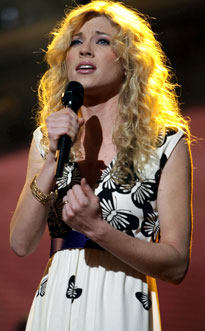 Fox, The WB
To stop or not to stop?
The American Idol judges couldn't agree if Brooke White did the right—or wrong—thing last night by rebooting her performance of "You Must Love Me."
And there's not quite a consensus among outside singing experts, either.
"Unless it's a total trainwreck, I think you try to make it through," James Lugo, a record producer and vocal coach, said today. "Personally, I think starting and stopping is kind of hack."
To Gina Eckstine, a singer and vocal teacher, going forward is the only way to go. Most of the time.