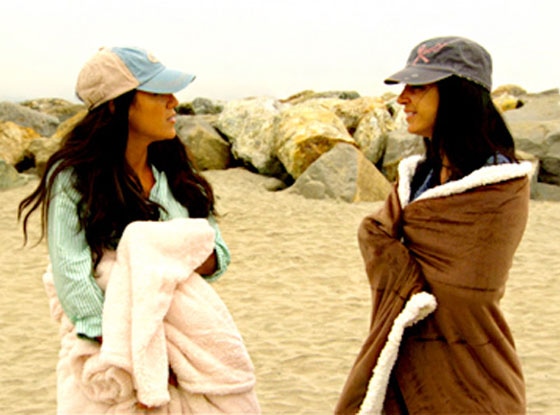 BRAVO
"Irene's coming and she's not happy," Greg Bennett was talking about the hurricane that slammed the East Coast last year but he could have been talking about a housewife.
Bravo teased out the tension this week, spending an entire episode just getting the troubled Garden State crew to California and to the first stop on their West Coast road trip.
Smart strategy. We spent the entire episode waiting for bombs to go off, but everyone seemed to be on their best behavior. Not that there weren't sparks flying between Teresa Giudice and, uh, everyone.
It took almost 24 hours for the Manzos, Gorgas, Giudices and Wakiles to make it from New Jersey to California. With the hurricane approaching, the crew was forced to drive to Pittsburgh, fly to Houston and then finally board a flight to San Francisco. It sounded like a day from hell.
So when Caroline Manzo made fun of Teresa's footwear we thought for sure sparks were going to fly. But all the Fabulicious author said was, "At least my shoes look Aztec-y." As if that somehow might make her look more in tune with her surroundings. (Cue Aztecs rolling in their graves.)
Obviously, the housewives are all trying to get their bearings and that might have more to do with the temporary truce than any real reconciliations.
There's the wacky trip to Camping World where Teresa manages to find a pink baseball cap and Melissa Gorga unearths some zebra and leopard placemats. You can take the girl out of Jersey, but you can't take the love of animal print out of the girl.
It's a Jersey-style glamping (glamorous camping) scene featuring some fish-outta-water Italian Americans who travel with their own provolone and sausage because, God forbid, the rest of the country doesn't take their antipasti as seriously as these folks do.
If anyone had consulted Yelp—instead of Googling bovine mating rituals—they would have found themselves headed toward quite the food and wine scene in Napa. Not that anyone bothered to check.
But it wasn't all city slickers gone camping jokes. There were a few moments we thought someone would to lose it. Like when Teresa decided to confront Kathy Wakile over their dueling cookie recipe claims. But that conversation fizzled out faster than Kathy's RV convection oven muffins. 
"I'm glad you talked about it and didn't let it eat up at you," said Kathy, effectively dousing any flare up.
Finally, at the 52 minute mark, it seemed like Teresa would have an emotional "s--t attack" when Melissa told her: "You need to sit back and say, 'What am I doing wrong? Why am I having an issue with everyone? Maybe it's me? Maybe I'm doing something wrong?'"
But...no! Teresa just lets the constructive criticism slide. Wait up, what? We're so confused. Has California's laid-back lifestyle made the ladies go soft? Does everyone need to start doing shots of Grappa to get their groove back?
It can't last! How soon do you think things are going to get ugly between the campers? Will Caroline flip out once Albie announces he's moved Lindsey into his Hoboken apartment? Have you ever jumped into bed and groped your sister-in-law's breast implants? And who do you think needed more pixels to cover his package: Richie Wakile or Joe Gorga?
Sound off on all things Jersey in the comments section below!
(E! and Bravo are both part of the NBCUniversal family.)