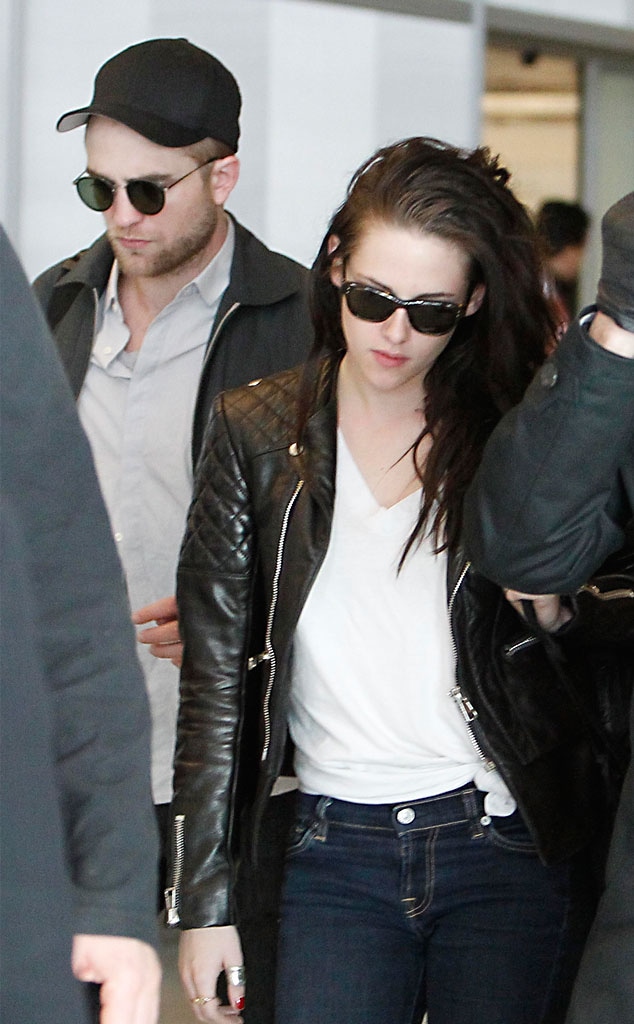 Splash News
Kristen Stewart and fleeting paramour Rupert Sanders have admitted to cheating on their significant others, Stewart on boyfriend and Twilight costar Robert Pattinson and Sanders on his wife of seven years, Liberty Ross.
Their dalliance has been characterized as a brief fling, and it helps that no one bothered to issue a wayward denial to throw us off the scent—but a tangled web has been woven nonetheless.
So, here's a rundown of everything we know so far about what happened and when. A cheat sheet, if you will.
March 2011: Stewart, star of three Twilight films to date and about one year into seemingly dating Pattinson (cagey, those two), signs on to star as the titular heroine in Snow White and the Huntsman, to be directed by Sanders and costarring Charlize Theron.
July 2011: Stewart, Sanders, producer Joe Roth and castmembers including Sam Claflin, Chris Hemsworth and Theron appear at Comic-Con to discuss the film in its early stages.

October 2011: Stewart finally acknowledges she's in a relationship—and she almost admits it's with Pattinson! She tells GQ she was looking forward to exploring England while in country shooting Snow White "because [her] boyfriend is English."
Fall 2011: Shooting Snow White is apparently a grueling process. Doing press for the film, Stewart tells E! News that she tore a ligament in her thumb, hurt her foot and every other day would do "something stupid" like "pull [her] ass muscle." But there was no funny business, according to a source, who has since assured us, "I can guarantee you 100 percent that nothing happened when they were working—nothing!"
May 15: Stewart and Sanders sit next to each other during a small dinner party at a restaurant in Berlin. Also in attendance, Snow White evil queen Charlize Theron.
May 23: Stewart and Pattinson find a quiet corner to lock lips following the premiere of On the Road at the Cannes Film Festival.
May 29: Stewart tells E! News at a sneak peek of Snow White at Universal CityWalk that she would do a Snow White sequel "in a heartbeat."
May 31: Sanders tells the Huffington Post that people are mistaken if they think Stewart is anything like the character she's most known for, Bella Swan. "She played such a good version Bella Swan, people think Kristen Stewart is Bella Swan. She's not, you know? If you meet Kristen, she's wildly kind of giggly and vivacious and rebellious and naughty—all things that Bella Swan isn't."
June 1: Sanders describes his relationship with his wife to The Guardian: "I just knew I was going to marry her," he says of meeting Ross when she was only 17 (he's seven years older). "It took a while. I didn't propose to her for seven years because I felt that she was too young and she'd resent me if she hadn't lived. But it was good because I was off making commercials and she was modeling, so we had quite a free—not sexually free, we weren't swinging or having other relationships...I hope!—but we both lived very independent lives, then we'd meet up. It kept the fire burning. She's been very supportive and she's been a strong single mother for the last year and a half, because I haven't been around."
The filmmaker also says he's been offered the opportunity to direct a Snow White sequel, noting, "if it's right, we'll do it, if it's not, we won't."
June 7: Sanders, his wife at his side, tells E! News at the Snow White premiere in L.A. that, not only does Stewart have a "great spirit," she's also "feisty and kind of wild."
July 6: In an interview with the Daily Mail, Ross can't be more thrilled for her husband's success. "Once we started going out...I knew he was the one for me. He is a very special soul," the British model says.
July 21: Breaking Dawn Part 2 actress Toni Trucks dishes to E! News about working with Pattinson and Stewart: "They're both wonderful, cool as a cucumber. I don't think anyone can really judge people too harshly when you have all eyes on you at all times."
Also that day, BlackBook posts an interview with Pattinson, in which he calls rumors that he and Stewart are engaged not true. "At least, not yet," he adds. "But it is true that Kristen has always done something to me that others haven't." (Seriously, why has everything anyone says started sounding awful at this point?!)
July 22: Stewart, Pattinson and Taylor Lautner take the stage at the 2012 Teen Choice Awards to accept the 41st overall award for The Twilight Saga. It doesn't appear that Robsten are sitting in the audience together.
July 24: E! News learns of the Sanders-Stewart hookup. Team Edward takes it hard.
Ross tweets, "Wow," before closing her Twitter and Facebook accounts. A picture of Disney's cartoon Snow White crying and drinking, along with the caption, "Not so pretty or so pure after all..." is posted to an Instagram account that purportedly belongs to Ross. The privacy settings on the account are subsequently changed so that only followers can view the pics.
July 25: Stewart apologizes first, telling People in a statement: "I'm deeply sorry for the hurt and embarrassment I've caused to those close to me and everyone this has affected. This momentary indiscretion has jeopardized the most important thing in my life, the person I love and respect the most, Rob. I love him, I love him, I'm so sorry."
Sanders is a close second, saying, "I am utterly distraught about the pain I have caused my family. My beautiful wife and heavenly children are all I have in this world. I love them with all my heart. I am praying that we can get through this together."
Good news for R.Pattz: An upcoming project, The Rover, is promised financing by Screen Australia and gets a greenlight.
July 26: There's no sign of Pattinson (or anyone at all besides paparazzi) around his home in L.A.'s Los Feliz neighborhood, where Stewart seemed to be living as well. Meanwhile, there are rumors that he was spotted in Montreal a few days ago and has since flown to London.
Sanders' father, Michael, calls the media-fueled scandal "all a lot of fuss about nothing," telling People, "I should imagine it was something very brief. She is a very pretty girl and when you work that closely with someone for so long, sometimes things happen." Sanders is "a very honorable, hardworking and dedicated father and filmmaker," he added.
Next Up: Pattinson's Cosmopolis hits theaters Aug. 17, an event he (in normal circumstances anyway) would certainly be hitting up all the talk shows to promote. The reportedly "heartbroken and angry" thesp is supposed to start shooting Mission: Blacklist next month.
Stewart will star in and serve as a producer on Cali, possibly costarring Alex Pettyfer, about a young couple who strike it rich after making a fake snuff film.
Breaking Dawn Part 2 caps the Twilight Saga (and possibly the couple currently known as Robsten) on Nov. 16.
(Originally published July 25, 2012, at 6:24 p.m. PT)