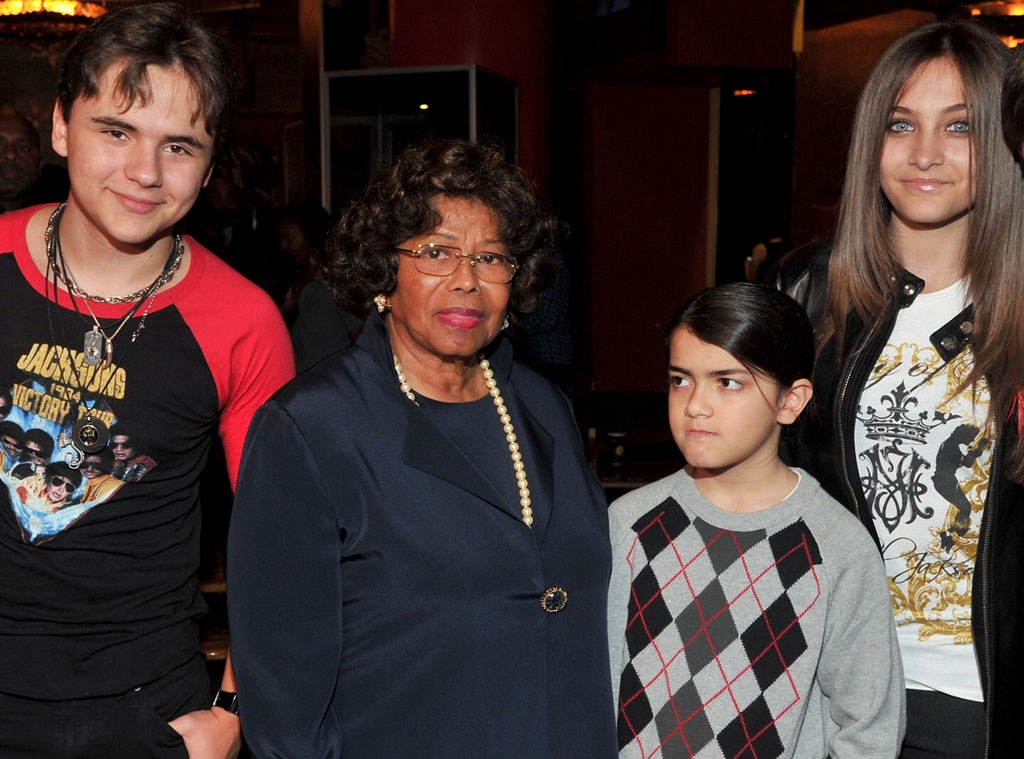 Lester Cohen/WireImage
On today's episode of the Jackson family drama: Michael Jackson's three children get a new guardian...and Diana Ross is suddenly pulled into the fray!
Following an emergency court hearing this morning in Los Angeles, family matriarch Katherine Jackson has temporarily lost custody of Paris, Prince and Blanket following an odd coup attempt that involved several of Michael's siblings flying the 82-year-old woman to Arizona in an apparent plot to wrest away control of his multimillion-dollar estate.
In the end, it was T.J. Jackson, Michael's nephew and Tito's 34-year-old son, who was appointed temporary guardian of the three kids after Paris and Prince consented to being in T.J.'s custody in the absence of their grandmother.
Diana Ross, whom Michael listed as a backup guardian in his will if anything were to prevent his mother from fulfilling the role, has been given notice of the situation in case she wants to be appointed guardian. Also informed of the custody change was Debbie Rowe, biological mother to the two elder children.
For the time being, Katherine's monthly allowance of $86,000 as guardian of Michael's children will go to T.J. It's that money that, sources have told E! News, is what motivated Katherine's children Randy, Jermaine, Janet and Rebbie Jackson to separate her from the kids as they sought to invalidate their late brother's will. (The question of the will is set to be taken up at another court hearing later today.)
Today's hearing came after Paris, 14, took to Twitter in recent days to say she had no contact with Katherine for more than a week. That changed last night, one insider said, when Katherine phoned her grandchildren around 3 a.m. According to the insider, Katherine sounded "very sedated" (possibly because she had just woken up) and "said she wanted to come home [to L.A.] three times."
T.J.'s lawyer told the judge Wednesday his client believed Katherine might have been talking in some kind of code because others were listening.
Meanwhile, T.J. is filing a request to be named permanent guardian of the three kids. As temporary guardian, T.J. must give consent for anyone at the house (from security to gardeners, etc.) to be hired or fired. Per today's order of Los Angeles Superior Court Judge Mitchell Beckloff, the children cannot be removed from California.
"The kids love T.J. and trust him. This is good news," a source extremely close to the family told E! News. "It is not about taking [guardianship] away from Katherine. They are trying to protect the kids from the other family...T.J. didn't step in to remove her. He stepped in because she is not there. He is extremely tight for his grandmother."
But today's maneuvering doesn't resolve the long-term custody of the three children.
Katherine's attorney, Perry Saunders, said that he adamantly opposes Katherine being permanently removed as guardian. "When she gets back [home to L.A.]," Saunders says he will file papers to get her reinstated. This could be happening very soon, as sources tell E! News that the Jackson matriarch is flying from Arizona to L.A. within hours.
Another source told E! News that Janet Jackson was by her mother's side and kept her apprised of the all the family turmoil and that Katherine was "devastated by the judge's ruling." "The idea that Katherine is sedated and being held prisoner by her own children is preposterous," the source said. "She will fight for the truth to be heard."
However, Berkloff said he wanted to make clear that T.J.'s temporary guardianship is "not a power move" and the court is "not saying Katherine has done anything wrong."
Earlier in the day Wednesday, Paris tweeted: ""everyones taking control of me , it seems that the worlds got a role for me .. im so confused will u show to me you'll be there for me"
We certainly hope T.J. will be there for her and her siblings during this tumultuous time.
—Additional reporting by Baker Machado
(Originally published July 25, 2012, at 11:15 a.m. PT)