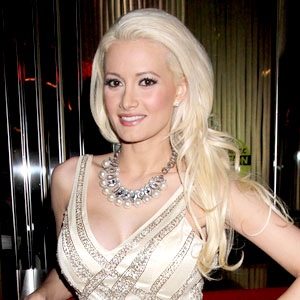 Fame Pictures
Holly Madison is going from Playmate to playdates!
A rep for the Playboy pinup-turned-reality star confirms to E! News that the blonde bombshell is planning to adopt a child.
Madison, 32, first broke the news to In Touch, saying she's looking to start a family of her own beyond the happy one she found for a time with Hugh Hefner as one of his three gorgeous gal pals on the hit E! reality series The Girls Next Door.
"I've started the adoption process," she told the magazine. "I really want to be a mommy."
Holly added that she decided to take the adoption route to parenthood because she's been too busy with her career these days to focus on having a baby of her own. That includes starring the last couple of years in her own reality spin-off, Holly's World, as well as appearing in a hit Vegas show and at various events.
To help her on her journey, Madison has contacted Hold My Hand, an adoption mentoring service. It's run by "the Guncles" —aka Bill Horn and Scout Masterson, the gay uncles featured on Tori Spelling's reality show, Tori & Dean: Home Sweet Hollywood, who started the organization as a way to help prospective parents.