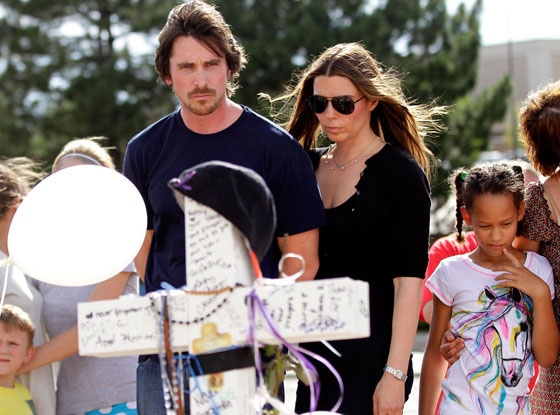 Joshua Lott/Getty Images
Christian Bale is officially a real-life do-gooder.
The Dark Knight Rises star is in Colorado today meeting with victims of last Friday's multiplex shooting being treated at the Medical Center of Aurora and visiting a memorial.
Carey Rottman posted two photos of himself with Bale on his Facebook page with the caption, "Wow!!! Thank you so much for the visit Christian!! What a great guy! Still in shock!"
Another simply said, "Batman!"
Other photos posted on Twitter show the Oscar winner in a hallway surrounded by medical staffers.
The Denver Post reports Bale spent over two hours visiting with five people still being treated at Aurora and another two who came from the Swedish Medical Center.
"The patients were really happy to meet Bale," Bill Voloch, interim president of Medical Center of Aurora, told the newspaper. "They are obviously big fans of his movies. They wanted to see Batman and were really pleased to see Bale."
"Words cannot express the horror that I feel," Bale said in a statement over the weekend, following the attack that left 12 dead and 58 others injured. "I cannot begin to truly understand the pain and grief of the victims and their loved ones, but my heart goes out to them."
Players from the Denver Broncos have also been visiting with victims.