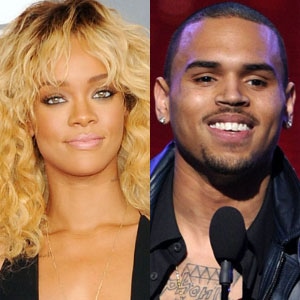 Jason Merritt/Getty Images; John Shearer/WireImage
Did Rihanna and Chris Brown have a romantic reunion in France?
No, no, no. Despite a report that the former couple recently met back up on a luxury yacht in Cannes, Brown's rep tells E! News, "there is nothing there."
"People are trying to connect them," the singer's rep adds. "Chris is there to shoot a video for Swizz Beatz and with Luda." Rihanna, as we've seen from Twitter, is just vacationing with her girls in the south of France.
Another reason Brown and Rihanna didn't meet up?
Per his rep, the hip-hop star is still dating model Karrueche Tran.
And even though Brown, 23, and Rihanna, 24, aren't dating again, that doesn't mean things are unfriendly between this once-contentious couple.
When Rihanna's beloved grandmother passed away earlier this month, her former flame expressed his sympathy to her family via Twitter.