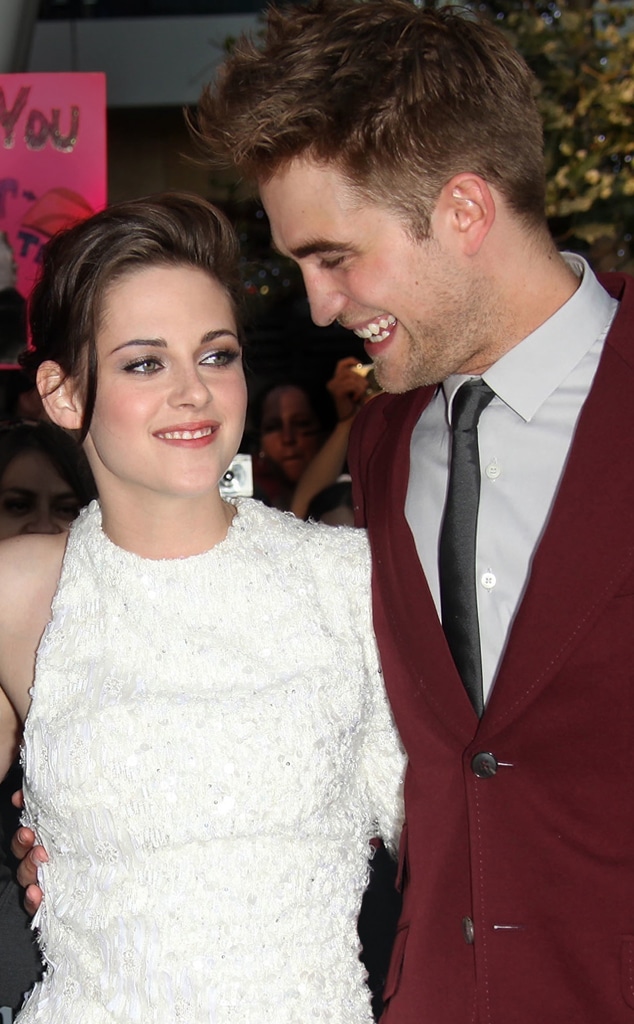 ZUMApress.com
Kristen Stewart and Robert Pattinson: a nation mourns. Specifically, the Twi-hard nation.
With news that Stewart had a fling with her Snow White and the Huntsman director Rupert Sanders, we are bracing for potential fallout. So while mulling the future of the entity known as Robsten, we decided to take a look back at how the onetime undercover lovers turned Twilight megastars came to be.
2008: Our stars are born: Kristen and Rob are cast, respectively, as Bella Swan and Edward Cullen in the Twilight franchise, with Kristen later opening up about the casting process and her first choice of romantic lead. "I basically cast him," she told Vanity Fair. "We did one day of auditions and a bunch of guys came in. Catherine Hardwicke, the director, afterwards was like, 'What do you think? This is such a hard choice.' I was like, 'Are you kidding me?! It's such an obvious choice!' It couldn't have been better. It was sort of perfect."
Spring 2008: Filming on the first movie of the franchise, Twilight, takes place in Vancouver. The Robsten bubble begins and it's not long before murmurings of their on- and offscreen chemistry begin.
Summer-Fall 2008: Though Kristen is still dating Michael Angarano, she and Rob, as befits two costars, begin making increasing public rounds together, turning up at the MTV Movie Awards, their inaugural Comic-Con, the MTV Video Music Awards, the Rome Film Festival, and pose for a rather loved-up-looking photo shoot for Vanity Fair.
Nov. 17, 2008: The duo stay close while appearing on the red carpet of the L.A. film premiere of Twilight. And many red carpets after.
February 2009: After a winter apart, the gang reunites for the Japanese premiere and various fan events, as tight-knit as ever.
March 2009: Kristen, Rob and the rest of the cast arrive in Vancouver to begin preproduction on New Moon. Kristen is accompanied and often photographed on the city streets with her still-beau Michael. She's asked by Nylon magazine about the rumors of her and Rob and denies them, saying they are simply "good friends."
May 2009: The gang relocates to Italy to continue shooting, with Rob and Kristen leaving temporarily to attend the MTV Movie Awards, where they tease the fans with their non-kiss kiss. Rumors ramp up. The hand-holding doesn't help.
June 2009: Tabloids explode with reports that Kristen and Michael have split. Hardwicke later confirms that Robsten formed in the immediate aftermath.
July 2009: The cast hits up Comic-Con, this time with Taylor Lautner positioned in between Rob and Kristen at nearly every press opportunity.
August 2009: A rather epic moment in the life of the Robsten chronicler. The cast is back together in Vancouver to begin work on The Twilight Saga: Eclipse, and while in town, Rob and Kristen attend a Kings of Leon concert. It is at this event that shadowy photos of the duo wrapped up in each other (and mostly likely kissing) emerge online. Later, back in L.A., Rob is photographed driving away from her home.
November 2009: While on the New Moon promotional trail, Rob and Kristen are spotted walking the tarmac at the Paris airport, hand-in-hand. Cue Internet squealing and more are-they-aren't-they speculation.
January 2010: Thanks to some intrepid fan photos, the world is made aware that Robsten spent New Year's Eve together on the Isle of Wight.
February 2010: K.Stew wins a BAFTA and a proud R.Pattz is seen beaming from the audience.
March 2010: They walk the red carpet separately, but nonetheless Kristen shows her support by attending the premiere of Rob's new film, Remember Me.
May 2010: The confirmation heard round the world? During a taping of The Oprah Winfrey Show, the TV staff is briefed on the how to handle the talent. Part of that briefing included the disclosure that Rob and Kristen are indeed an item.
June 2010: The duo once again wins Best Kiss at the MTV Movie Awards. This time, there's no teasing involved.
July 2010: Eclipse producer Wyck Godfrey confirms to Time that the duo are dating: "The thing that I think about is, 'Oh my God, I hope they stay together.' Because it could be awkward on set in the next movie if they have a huge falling out. It's like, wow, they have to portray this love story through two more movies. God, I hope they stay together; please stay together."
Summer-Fall 2010: Rob and Kristen reportedly rent a place together in L.A. while Pattinson films Water for Elephants. They're also spotted together on the Montreal set of On the Road.
Fall 2010-Spring 2011: The couple is back together on set to film Breaking Dawn. Steamy photos from set inevitably leak, and the couple continues to be photographed in all manner of coupley encounters wherever they go.
June 2011: Third time's the charm? Not exactly. Though Robsten once again took home the Best Kiss award at the MTV Movie Awards, Rob opts to smooch costar Lautner instead of Kristen when accepting the prize.
July 2011: They resurface once again at Comic-Con and this time are far more open with their affection, posing with their arms around each other and joking during panels.
August 2011: Kristen heads to London to begin filming Snow White and the Huntsman, directed by Sanders. The following month, she's joined by hometown native Pattinson and they are once again inseparable.
October 2011: Kristen finally caves, telling British GQ, "My boyfriend is English. Come on, guys, it's so obvious!" At the same time, Rob finally seemed to go public himself, thanking Ann Curry when the then-Today anchor congratulated him on his success and beautiful girlfriend. "Thank you," he said.
November 2011: The duo continue their covert flirt assault, getting indelibly joined together at a hand and footprint ceremony in front of Grauman's Chinese Theatre in L.A. A week later, they don't bother trying to keep things hidden, arriving together at the premiere of The Twilight Saga: Breaking Dawn Part 1.
February 2012: The notoriously low-key couple attend a pal's birthday and their sweet PDA is plastered all over Facebook. Cut to Oscar weekend later in the month, and the duo is just as close, if a bit more careful with their affection in public.
March 2012: The duo is back in the City of Love, and are spotted leaving the same hotel before heading out on a date.
April 2012: There's no sign of trouble in paradise, as the duo get cozy (albeit stony-faced) at Coachella. Later that month, they head back up to Vancouver together for Breaking Dawn Part 2 reshoots just a few weeks after first wrapping production.
May 2012: Kristen continues to speak, um, colorfully of her beau, referring to Rob in Elle as "my f--king boyfriend." The same month, she's on hand in London to help ring in Rob's birthday with a party at Claridge's hotel and they're together again in Cannes, where both are promoting films. Oh, and they kissed.
Later, on the red carpet for SWATH, K.Stew tells E! News when asked if there's anything she would do if she knew cameras weren't around to capture it: "I do whatever I want. You can't be ashamed of what you're doing if you're doing it honestly, and I am."
The same month, when discussing a potential sequel to SWATH, Kristen announces, "I would do it in a heartbeat," and tells Interview, "There's that awesome quote where Joanne Woodward said, 'Acting is like sex: You should do it, not talk about it.'"
June 2012: Robsten are together at the MTV Movie Awards. They sweep. SWATH is also released in theaters and opens at No. 1. The studio is already committed to a sequel on the film. Kristen also covers Vanity Fair, and Rob gave the magazine one of its choicest quotes: "The perception of her is that she's 'awkward.' But it's funny knowing her. It's the absolute opposite of what people think. She's insanely confident."
June 24, 2012: Kristen and Rob and a bevy of famous friends attend seriously star-studded nuptials in New Jersey, where Rob played DJ and the duo happily posed for pics with partygoers.
July 12, 2012: The duo arrive together at Comic-Con, and proceed to delight fans with good-natured banter at their final panel for the Twilight franchise.
July 2012: In an interview with BlackBook, Rob denies reports that he and Kristen were planning to walk down the aisle, but gushed that Stewart "has always done something to me that others haven't."
July 22, 2012: The couple are out in public for what might be the final time, accepting their Teen Choice Awards together.

July 24, 2012: Us Weekly reveals a cover story titled "Kristen Cheats on Rob" with a photo SWATH director Sanders in an embrace. People magazine reports Stewart and Sanders shared "a fleeting moment" that a source close to Stewart labels "a mistake and a complete lapse in judgment."
What's next? Kristen is expected to begin filming a gritty new action flick, Cali, this summer. The final installment of the big screen Twilight franchise, Breaking Dawn Part 2, is set for release on Nov. 16, 2012.
(Originally posted at 5:50 p.m. PT on July 24, 2012.)