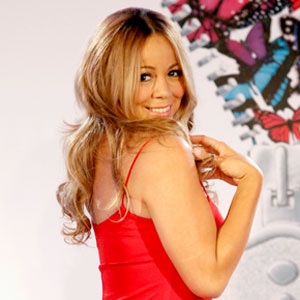 Cindy Ord/Getty Images
What's not to love about Mariah Carey?
It's clear that the powerhouse singer doesn't need a microphone in front of her to entertain us, because her quirky personality does the job already. And now with the news of Carey becoming a judge on American Idol, we can only hope that she'll give us more memories to giggle about.
But until then, let's remember some of the oldies but goodies.
1. Sit Back and Relax: One of the singer's ventures, aside from music, was convincing people at home to buy different items on QVC.  What we adored about her attempt to do this, though, was not so much her sweet charm, but her nonchalant approach to the whole thing. For example, she was pregnant and her feet hurt. Solution? Kick back and relax on the couch while doing the show. We loved (as we're sure she did, too) watching this "moment."
2. Ice Cream (Wo)man: Who might that be with all the tasty treats? Oh, it's just Mariah. During a 2001 episode of TRL, the singer surprised fans and host Carson Daly with an ice cream truck full of goodies. But that's not all. Carey also proceeded to strip off her T-shirt, which she gave to Carson, and strut some itty-bitty shorts and halter to show off that sexy bod of hers. She seemed a little frazzled and unsure of what she was doing, but we really didn't care.
3. Gettin' Grabby: Pregnant female celebs always take the opportunity to do some super artsy pose with their baby bump for everyone to gawk at, and Mariah was no exception. Well, except it was a little different from what we were used to seeing. This wasn't your typical, black and white silhouette shot. Instead, hubby Nick Cannon was snapped behind the mom-to-be, cupping her enormous breasts while she held her bun in the oven.
4. Easter Decoration: The 42-year-old used her protruding belly as a way to get festive in March 2011 by decorating her bump like a huge Easter egg. "My attempt @ festiveness on 327! for ATLITL thank u + I♥U! Comin soon #dembabies! LYMA+thankx 4 making me happy:)," she wrote on Twitter.
5. Couture Fitness: Oh yeah, you remember that Cribs episode. After being greeted by Carey's intense cleavage and then picking your jaw up off the ground from viewing her amazing penthouse, and even more ridiculous closet, we witnessed the singer (once she decided which wardrobe change she approved of) get her fitness on in her personal gym. But in true Mariah style, she did her leg workout with the stilettos still on.
Are you also hoping that we'll see more Mimi moments like these on American Idol? Sound off in the comments!