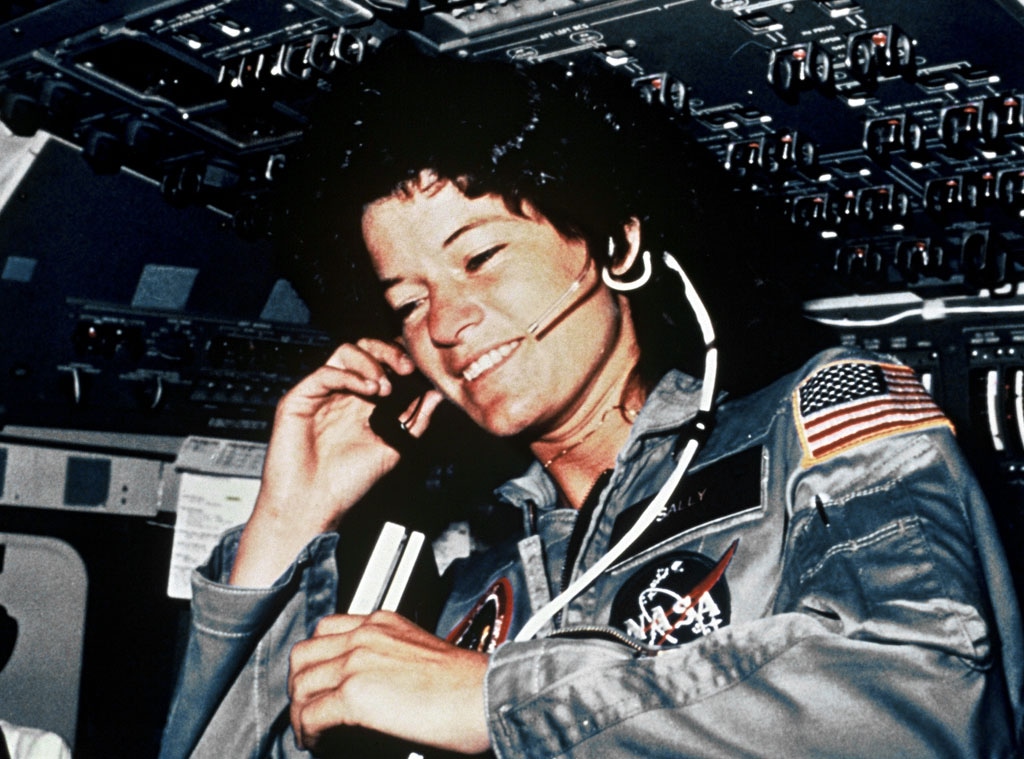 SIPA USA
Sally Ride didn't just burst through the glass ceiling—she touched the sky beyond it.
Upon hearing that the first American woman to go into space had died today at 61 after battling pancreatic cancer, the worlds of entertainment, politics, science and more virtually collided, all in an effort to pay respects to the game-changing astronaut.
Of course, it isn't just women out there showing their appreciation for Ride's accomplishments.
"God Speed, Sally Ride. She aimed for the stars. Let's all do the same. Hanx," Tom Hanks, who was schooled in the astronaut arts for Apollo 13, tweeted in response to the sad news.
"For all of us ladies who dreamt of being an astronaut. Rip Sally Ride," tweeted Soleil Moon Frye. "You taught us that dreams can come true."
Tweeted Katie Couric: "Sally Ride is truly one of my heroes and has inspired so many women. Very sad day, please let us continue to share her story. "
"A sad day, I just learned of the death of Sally Ride with whom I flew aboard Challenger in 1984. An extraordinary person," wrote fellow astronaut Marc Garneau.
"Very sorry to learn of astronaut Dr. Sally Ride's death," offered Science Guy Bill Nye. She changed the world, getting girls excited about science. She will be missed.
"Michelle and I were deeply saddened to hear about the passing of Sally Ride," President Barack Obama said in a statement. "As the first American woman to travel into space, Sally was a national hero and a powerful role model. She inspired generations of young girls to reach for the stars and later fought tirelessly to help them get there by advocating for a greater focus on science and math in our schools. Sally's life showed us that there are no limits to what we can achieve and I have no doubt that her legacy will endure for years to come. Our thoughts and prayers go out to Sally's family and friends.
Ride's passing also allowed for one of those rare moments when politicians on opposite sides of the spectrum manage to see eye to eye.
"Sally Ride was an inspirational trailblazer for American women," tweeted Sarah Palin. "We're all grateful for her example. She will be greatly missed."
"Sally Ride ranks among the greatest of pioneers. I count myself among the millions of Americans she inspired with her travels to space," added GOP presidential hopeful Mitt Romney.
Democratic Sen. Barbara Boxer tweeted: "Deeply saddened by the passing of pioneering astronaut and Californian Sally Ride. She inspired millions to reach for the stars."
"Space programs create unique portfolios of heroes -- in life and in death. US Shuttle astronaut Sally Ride 1951-2012, RIP," tweeted physicist and Daily Show/Colbert/Real Time fave Neil deGrasse Tyson.
Ride, who hailed from Los Angeles, was also the youngest person to go into space when, at 32, the Stanford-educated physicist joined the Challenger crew in 1983.
She is survived by her partner of 27 years, Tam O'Shaughnessy; her mother, Joyce; and her sister, Karen Scott, a Presbyterian minister.