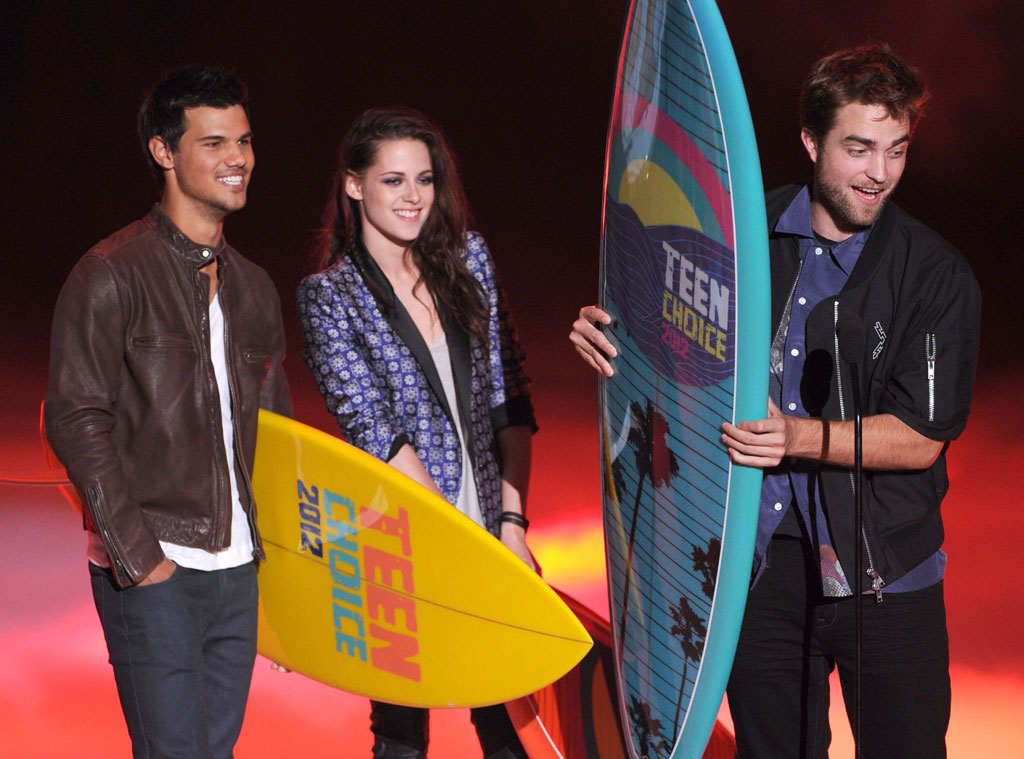 Kevin Winter/Getty Images
Who missed out on the surfboard giveaway?
Tonight we watched this year's hottest celebs get honored by the fans as Demi Lovato and Kevin McHale hosted the 2012 Teen Choice Awards along with the sounds of DJ Pauly D.
If you missed it, don't start freaking out, because we put together some highlights, along with the list of winners, right here for you.
Best Opening: The entire cast of Step Up Revolution flipping, breakdancing and crumping on stage to get us ready for tonight's show totally worked. They even made some audience members swoon—including Taylor Swift, who got a kiss on the hand.
Worst Flashback: And by worst, we mean for McHale, but it was great for us. Did you know the Glee star was in a boy band?! Yep, we even got to see some old NLT (Not Like Them) footage and then the actor gave us his own impromptu "audition" to Lovato. He totally has the X Factor. 
Best Entourage: Choice Comedian winner Ellen DeGeneres took the stage with the coolest (and cutest) "hype girls"—Sophia Grace and Rosie. Their excitement was adorable and got even better when they found out they won Choice Web Stars. Of course, Sophia Grace was ecstatic and Rosie didn't seem fazed at all.
Worst Hairstyle: We're not sure how Demi constructed that ponytail of hers (duct tape maybe?), but it looks like she got the idea from some Street Fighter character. When she finally took it down, we noticed a blue ombre thing happening. Not sure how we feel about that, either.
Best Return to the Stage: No Doubt performed their comeback hit single "Settle Down," and although it wasn't some crazy theatric performance, we liked it, because it was real. Gwen Stefani (does she age?!) actually sang and rocked the crowd. They've still got it.
Worst Disappointment: Unfortunately, Channing Tatum wasn't there to accept his award with Jonah Hill for their flick 21 Jump Street. And here we were secretly hoping that, since Magic Mike costar Adam Rodriguez helped present the award, they would bust into a dance on stage together. Wishful thinking.
Best Undercover Weapon: Did you guys catch Flo Rida's microphone? It had a huge embellished set of wings on there that could easily be some sort of shield or self-defense aid if things got crazy.
Worst Ending: As usual, Justin Bieber rocked his performance and offered amazing choreography to keep us focused. So what happened that made us deem this the worst ending? The fact that it ended! We could have continued watching him all night.
Best Appearance: The Twilight Saga isn't over just yet. As we anxiously wait for Breaking Dawn - Part 2 to release this fall, we got to see Kristen Stewart, Robert Pattinson and Taylor Lautner accept the Ultimate Choice Award after an incredible movie montage that got us that much more excited for the next film. Oh, and did you know Twilight has won 41 Teen Choice Awards?
Worst Pants: Sorry, McHale, but those jellyfish-print pants are just not working for us. But we do like how it inspired you and Demi to start shaking your booties on each other. More of that, please.
Best Backup: This summer's biggest hit "Call Me Maybe" by Carly Rae Jepsen was the final performance of the night, and she was accompanied by a video of fans and celebs singing along to the song. We kinda loved that.
Here's the complete list of winners for the 2012 Teen Choice Awards:
MOVIES
Choice Movie: Action: Abduction
Choice Movie Actor: Action: Taylor Lautner, Abduction
Choice Movie Actress: Action: Zoe Saldana, Colombiana
Choice Movie: Sci-Fi/Fantasy: The Hunger Games
Choice Movie Actor: Sci-Fi/Fantasy: Josh Hutcherson, The Hunger Games and Journey 2: The Mysterious Island 
Choice Movie Actress: Sci-Fi/Fantasy: Jennifer Lawrence, The Hunger Games
Choice Movie: Drama: The Lucky One
Choice Movie Actor: Drama: Zac Efron, The Lucky One
Choice Movie Actress: Drama: Emma Stone, The Help
Choice Movie: Comedy: 21 Jump Street
Choice Movie Actor: Comedy: Channing Tatum, 21 Jump Street
Choice Movie Actress: Comedy: Emma Stone, Crazy, Stupid, Love
Choice Movie: Romance: The Twilight Saga: Breaking Dawn – Part 1
Choice Movie Actor: Romance: Zac Efron, The Lucky One
Choice Movie Actress: Romance: Kristen Stewart, The Twilight Saga: Breaking Dawn – Part 1
Choice Movie Voice: Taylor Swift as Audrey, Dr. Seuss' The Lorax
Choice Movie Chemistry: Jennifer Lawrence and Amandla Stenberg, The Hunger Games
Choice Movie Liplock: Jennifer Lawrence and Josh Hutcherson, The Hunger Games
Choice Movie Hissy Fit: Charlize Theron, Snow White & The Huntsman
Choice Movie Villain: Alexander Ludwig, The Hunger Games
Choice Movie Scene Stealer: Male: Liam Hemsworth, The Hunger Games
Choice Movie Scene Stealer: Female: Ashley Greene, The Twilight Saga: Breaking Dawn – Part 1
Choice Movie Breakout: Rihanna, Battleship
Choice Summer Movie: Action: The Avengers
Choice Summer Movie: Comedy/Music: Katy Perry: Part of Me
Choice Summer Movie Star: Male: Chris Hemsworth, Snow White & The Huntsman" and "The Avengers
Choice Summer Movie Star: Female: Kristen Stewart, Snow White & The Huntsman
TELEVISION
Choice TV Show: Drama: Pretty Little Liars
Choice TV Actor: Drama: Ian Harding, Pretty Little Liars
Choice TV Actress: Drama: Lucy Hale, Pretty Little Liars
Choice TV Show: Fantasy/Sci-Fi
The Vampire Diaries
Choice TV Actor: Fantasy/Sci-Fi: Ian Somerhalder, The Vampire Diaries
Choice TV Actress: Fantasy/Sci-Fi: Nina Dobrev, The Vampire Diaries
Choice TV Show: Action: CSI: Miami
Choice TV Actor: Action: Adam Rodriguez, CSI: Miami
Choice TV Actress: Action: Linda Hunt, NCIS: Los Angeles
Choice TV Show: Comedy: Glee
Choice TV Actor: Comedy: Chris Colfer, Glee
Choice TV Actress: Comedy: Lea Michele, Glee
Choice TV: Animated Show: The Simpsons
Choice TV: Male Personality: Simon Cowell, The X Factor
Choice TV: Female Personality: Jennifer Lopez, American Idol
Choice TV: Reality Competition Show: The X Factor
Choice TV: Reality Show: Punk'd
Choice TV: Male Reality Star: Paul "DJ Pauly D" DelVecchio, Jersey Shore and The Pauly D Project
Choice TV: Female Reality Star: The Kardashians, Keeping Up With The Kardashians 
Choice Summer TV Show: Teen Wolf
Choice Summer TV Star: Female: Troian Bellisario, Pretty Little Liars
Choice Summer TV Star: Male: Tyler Posey, Teen Wolf
Choice TV Villain: Janel Parrish, Pretty Little Liars
Choice TV Female Scene Stealer: Candice Accola, The Vampire Dairies
Choice TV Male Scene Stealer: Michael Trevino, The Vampire Diaries
Choice TV Breakout Show: The X Factor
Choice TV Breakout Star: Female: Hannah Simone, New Girl
Choice TV Breakout Star: Male: Beau Mirchoff, Awkward
MUSIC
Choice Male Artist: Justin Bieber
Choice Female Artist: Taylor Swift
Choice Music Group: Selena Gomez & The Scene
Choice R&B/Hip-Hop Artist: Nicki Minaj
Choice R&B/Hip-Hop Song: "Starships," Nicki Minaj
Choice Rock Group: Fun
Choice Rock Song: "Paradise," Coldplay
Choice Electronic Dance Music (EDM) Artist: David Guetta
Choice Single by a Group: "We Are Young," fun. featuring Janelle Monáe
Choice Single by a Female Artist: "Eyes Open," Taylor Swift
Choice Single by a Male Artist: "Boyfriend," Justin Bieber
Choice Male Country Artist: Hunter Hayes
Choice Female Country Artist: Taylor Swift
Choice Country Song: "Sparks Fly," Taylor Swift 
Choice Country Group: Lady Antebellum
Choice Summer Song: "Call Me Maybe," Carly Rae Jepsen 
Choice Love Song: "What Makes You Beautiful," One Direction
Choice Break-Up Song: "Payphone," Maroon 5 featuring Wiz Khalifa
Choice Summer Music Star: Female: Demi Lovato
Choice Summer Music Star: Male: Justin Bieber
Choice Summer Music Star: Group: One Direction
Choice Music: Breakout Artist: Carly Rae Jepsen
Choice Music: Breakout Group: One Direction
FASHION
Choice Fashion Icon: Female: Katy Perry
Choice Fashion Icon: Male: Justin Bieber
Choice Female Hottie: Miley Cyrus
Choice Male Hottie: Ian Somerhalder
SPORTS 
Choice Female Athlete: Serena Williams (Tennis)
Choice Male Athlete: David Beckham (Soccer)
OTHER
Choice Book: The Hunger Games trilogy, Suzanne Collins
Choice Comedian: Ellen DeGeneres
Choice Twit: Demi Lovato
Choice Web Star: Sophia Grace and Rosie
Choice Video Game: Just Dance 3
Choice Social Network: Facebook