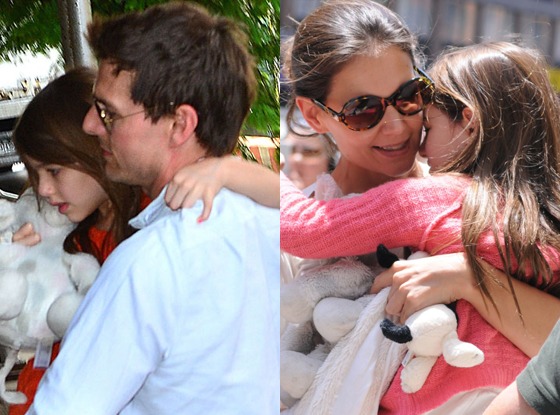 BSPSyndication/NPG.com; James Devaney/WireImage
Every time I see a picture of Suri Cruise, she's being carried by somebody. Do celebrity kids just not like to walk?
—M. College, via the inbox
Indeed, at first look it does indeed seem that Suri prefers to simply buy shoes instead of using them like the rest of us. Both of her parents, Katie Holmes and Tom Cruise, have been seen all over New York carrying their 6-year-old like a particularly rare Birkin bag.
But there's more going on beneath the surface. 
I reached out for some intel from a guy who would know: Alex Kantif of photo agency AKM Images/GSI Media. Kantif has spent the past week tracking Suri and family, and he tells me there's one main reason for Suri spending most of her public moments off of her feet.
You can blame aggressive paparazzi, he says.
"I stayed in New York for a week, and the only time that the Katie didn't carry Suri around was when they had to walk five to 10 blocks," Kantif tells me. "But some of the photographers are being a little over-aggressive and jumping right in front of her with their flahes. So Suri gets a little annoyed, and that's when she likes Katie to pick her up.
"I don't think Suri is spoiled," Kantif insists. "It's just been overwhelming for her recently, with all the photographers."
Just how many paps are we talking about?
"It was crazy," Kantif dishes. "Sometimes 30—and I think we got to a time where we had about 50 paparazzi, plus TV channels. And some of them got really close."
Specifically, one shutterbug recently jumped in front of the tot while she and her mom were trying to walk to a nearby Whole Foods. The incident must have spooked the child, because the pair's security guard subsequently told the paparazzi that Suri and Katie probably wouldn't try to take that walk again.
Given those circumstances, maybe Katie needs another person just to carry her.