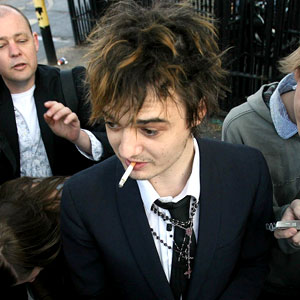 Press Association via AP Images
It's no secret that rocker Pete Doherty has quite the history when it comes to substance abuse.
Just look at his track record: The Libertines rocker has been in and out of jail, busted countless times for cocaine and heroin possession (one time he was caught carrying in a courthouse) and has checked into rehab—both court ordered and apparently on his own will—several times.
So surely he and everyone else in the world was hoping that this latest rehab stint would finally stick. Instead, he's been asked to leave.
As Pete first revealed to NME in April, Kate Moss' ex checked into The Cabin in Thailand, a high-end center in Chiang Mai that utilizes yoga and elephant trekking as treatment. Their website claims it is "Asia's most respected addiction treatment centre."
"We are of course disappointed to see [Pete] leave," director Alastair Mordey said in a statement about Pete's exit after three weeks. "It is important to maintain the integrity of the treatment program for the other clients to have a good chance of recovery. Pete understands this and therefore the reasons behind why we have asked him to leave."
This is not the first time Pete has attempted rehab in Thailand. He travelled there for treatment in 2003 and checked out after only three days.
Mordey continued, "We hope some of the things he has learned here will help him in the future and look forward to the day when Pete decides to consider recovery again."
So what earned him the boot from the center?
"At the end of the day—and this is actually quite common in the rehab institution—he basically worked out that he wasn't ready for recovery," marketing director Ben Moller explained, describing Pete's departure as a "mutual decision."
Moller continued, "To have even one person here out of 20 people or so that's not even motivated to be recovered or to achieve recovery, it's really disruptive for the other ones and that's not because of Pete doing anything intentionally disruptive."
And while Moller attests that Pete "hadn't started using" again, he says, "That's what he wanted to do."