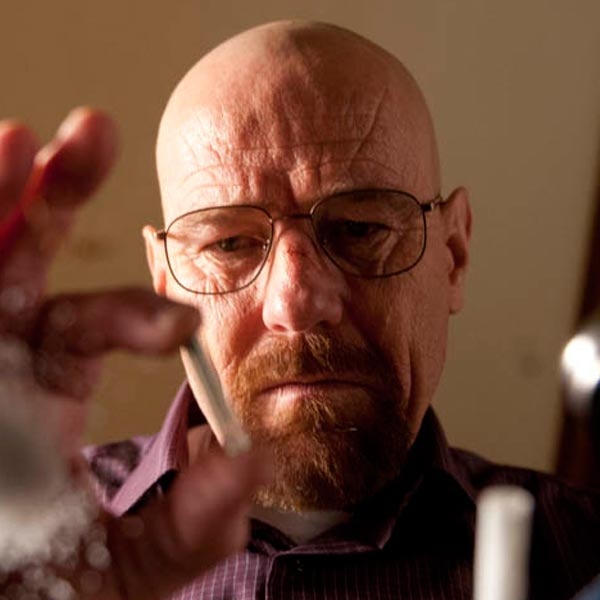 Ursula Coyote/AMC
Breaking Bad was back. Mad Men, Game of Thrones, Modern Family and 30 Rock, too. 
The usual suspects abounded and a Girls and Homeland snuck in here and there as nominations were announced today for the 64th Annual Primetime Emmy Awards.
Mad Men, a four-time Drama Series champ, tied with American Horror Story, up as a miniseries, for the most overall nominations, 17.
Other top nominees: the addictive PBS soap Downton Abbey and the blockbuster miniseries Hatfields & McCoys, with 16 each.
Modern Family was the most-nominated comedy series with 14 nods.
Breaking Bad, Downton Abbey, Game of Thrones, Mad Men, Homeland and Boardwalk Empire are up for Outstanding Drama Series. Each is a returning or past nominee except for Homeland, which begins its second season in the fall, and Downton Abbey, which competed—and won—last year as a miniseries.
In an Emmy first, not one of the Drama Series contenders hails from one of the Big Four broadcast networks, ABC, CBS, NBC or Fox. 
The HBO freshman cult fave Girls is a first-time Comedy Series contender, as is the HBO freshman ratings hit Veep. They're up against Emmy veterans The Big Bang Theory, Curb Your Enthusiasm, 30 Rock and, yup, reigning winner Modern Family.
American Horror Story, which picked up four acting nods and cleaned up in the tech categories, will vie for top TV movie/miniseries honors against Hatfields & McCoys, BBC America's Luther, PBS' Sherlock: A Scandal in Belgravia and Game Change, the HBO TV movie about the 2008 presidential election, which won over critics, peeved Sarah Palin.
Near-perennial champ The Amazing Race heads the field for Reality-Competition Program. Dancing With the Stars, Project Runway, So You Think You Can Dance, Top Chef and The Voice are the other nominees. The Amazing Race's Phil Keoghan, DWTS' Tom Bergeron and SYTYCD's Cat Deeley are up for Reality/Reality-Competition host opposite American Idol's Ryan Seacrest and the unstoppable Betty White, in the game for her prank show, Betty White's Off Their Rockers. (A show about White, Betty White's 90th Birthday: A Tribute to America's Golden Girl, rated two nominations in the Variety Special categories.)
Seacrest pulled in a second nod for Jamie Oliver's Food Revolution, which he produced, and which will vye for Outstanding Reality Program opposite Lisa Kudrow's Who Do You Think You Are?, Antiques Roadshow, MythBusters, Shark Tank and Undercover Boss. 
The Emmys are set to be presented Sept. 15 at the Nokia Theatre in Los Angeles. Late-night star Jimmy Kimmel will host.
Kimmel got to work early, literally and figuratively, helping to handle the predawn nomination announcements as a last-minute sub for Parks and Recreation's Nick Offerman, who was grounded on the East Coast due to severe weather there.
Kimmel was rewarded, in a way, with a first-ever Variety Series nod for Jimmy Kimmel Live.
(Originally published July 19, 2012, at 5:50 a.m. PT)