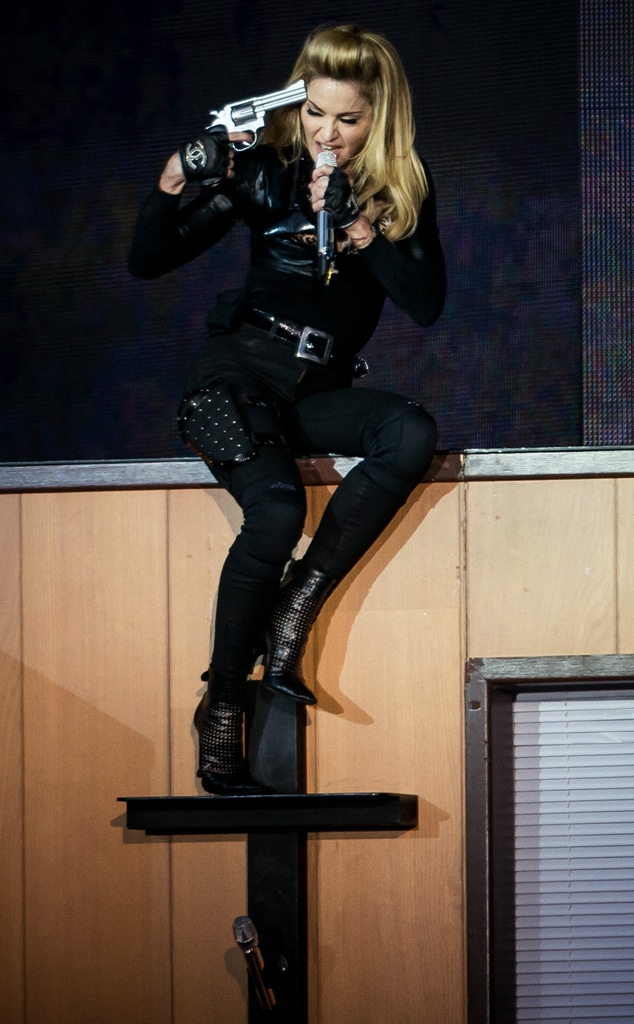 Ian Gavan/Getty Images
The Material Girl keeps pulling out the props onstage.
While Rome caught an eyeful of her butt, and Paris was treated to a nipple the other night, Madonna and her dancers flashed big shiny guns onstage in London's Hyde Park, during Monday's stop on her increasingly controversial MDNA tour.
And we say guns we don't mean their arms.
Obviously the uproar over Lindsay Lohan's recent girl-next-door-with-gun photo shoot wasn't foremost on Madonna's mind when she pressed her revolver to her temple.
Sigh...
Packing presumably unloaded heat is nothing new for the pop icon, who brandished an AK-47 assault rifle during a show in Tel Aviv in May and brought out the smaller gun for effect while performing "Gang Bang." (Ironically, she brought out the rifle during "Revolver.")
But, what do you know, making gestures suggestive of self-harm aren't really in favor these days.
After Lohan's second photo shoot this year featuring her and a gun (but the first in which she pointed it toward her open mouth), the national suicide hotline Hopeline told E! News, "When a celebrity uses suicide and specifically the means to do it as a joke, it is grossly irresponsible and is a disgrace. It also must be met with an immediate rebuke from the mental-health community. This is no joking matter. Lives are at stake."