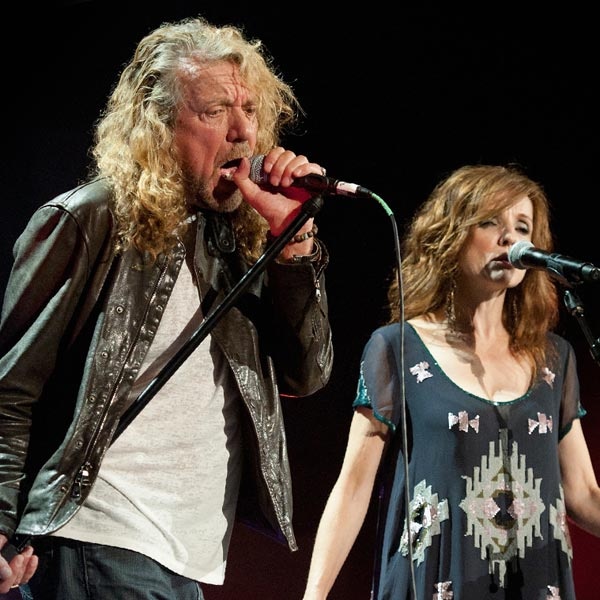 Erika Goldring/Getty Images
UPDATE: Plant's U.K.-based manager tells E! News that the rocker was apparently being cheeky when he used the word "eloped" to describe his home life.
"Robert has not married Patty Griffin," she tells us. "He was just referring to the fact that he's been residing in Texas."
________
Robert Plant's got a "Whole Lotta Love" for marriage again.
The erstwhile Led Zeppelin frontman revealed in an interview last Wednesday with the U.K.'s Independent that he has secretly tied the knot with Grammy-winning singer-songwriter Patty Griffin. This isn't the first time the two have made beautiful music together—Griffin is also one of the vocalist for Plant's new roots-rock outfit, Band of Joy.
"I eloped and ran off to Texas," Plant told the newspaper.
Over the hills and far away, indeed.
No word when exactly the couple made it official. There was no immediate comment from his rep and the English-born crooner (and honorary knight) didn't elaborate on his living arrangement much more than that except to say, "so now I spend half my time there and half [in the U.K.]."
The 63-year-old Plant added that when he's in the Lone Star State he and Griffin, 48, shack up in what he describes as termite-infested "old crack house in Austin" they rent.
"I tap my hand on the table and they fly out the walls in this huge cloud, like something from a Disney film," he said.
How's that for some musical inspiration?
Three years after Led Zeppelin's one-off reunion gig at London's O2 Arena, Plant formed Band of Joy, which took its name from the very first band he was in during the 1960s. That's when he began collaborating with Griffin, a well-respected singer-songwriter who's worked with the likes of Emmylou Harris and the Dixie Chicks and had her songs coverd by Jessica Simpson, Linda Ronstadt and many more. She also features prominently on Band of Joy's eponymous 2010 album.
This would be Plant's second union. He was previously married for 15 years to Maureen Wilson, with whom he had three children (son Karac died in 1977 at the age of 5), before they divorced in 1983.
—Additional reporting by Holly Passalaqua
(Originally published July 16, 2012, at 1:05 p.m. PT)