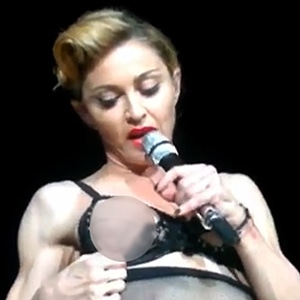 YouTube
Getting risqué is Madonna's thing.
So it wasn't too much of a surprise to hear that the sexual singer flashed her full boob and thong (again) to a Paris crowd during her MDNA concert Saturday night, but that wasn't what caught people's attention (surprisingly).
Although her little striptease earned hoots and hollers from the crowd, it was another image that got the singer in some hot water.
Madonna flashed a photo of one of France's biggest leaders, Marine Le Pen (who heads the far right National Front), with a swastika on her forehead. And now, per published reports, the National Front is threatening to file a complaint in French court this week for "insults" against the performer.
French legal expert Pierre Hourcade, who isn't affiliated with the National Front or its case against Madge, tells E! News that the party's complaint does have legit legal grounds, citing a provision in French law that states that "any allegation or accusation of a factual nature that tarnishes the honor or reputation of the person or body against whom the accusation is made shall constitute defamation."
Hourcade adds that "offensive expressions, scornful remarks or invectives that are devoid of any factual accusation constitute insults," and that this matter may go before an investigating judge in Bobigny. 
"When defamation or insults are committed toward an individual, by any way of communication to the public, it is punishable [with a fine of about $14,700] if there were no prior provocations," Hourcade tells E! News.
Suddenly, nipples don't seem like such a big deal.