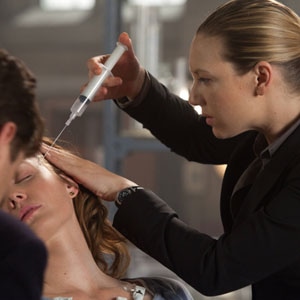 Liane Hentscher/FOX
"I know how to rid our world of the Observers!"
That bold statement came from Walter (John Noble) during the season five trailer at Sunday's Fringe panel at Comic-Con. Pique your interest? Good, because we have the first look at the final season of Fringe, plus some scoop to hold you over until the premiere...
Executive producer Joel Wyman confirmed that the new season will "pick up exactly where we left off in [episode] 419, the next day." It's the year 2036, and as for the Observers that are invading, star Joshua Jackson told fans that they are much worse than we think.
There are some sweet moments in the trailer below between Olivia (Anna Torv) and Peter, but Jackson would only say this about their future: "I think that these two will get the final chapter of their story."
And the final chapter of that story may not be the series finale. "I would think a film is very possible down the track," Noble muses.
Get your first look at Fringe's final season below!