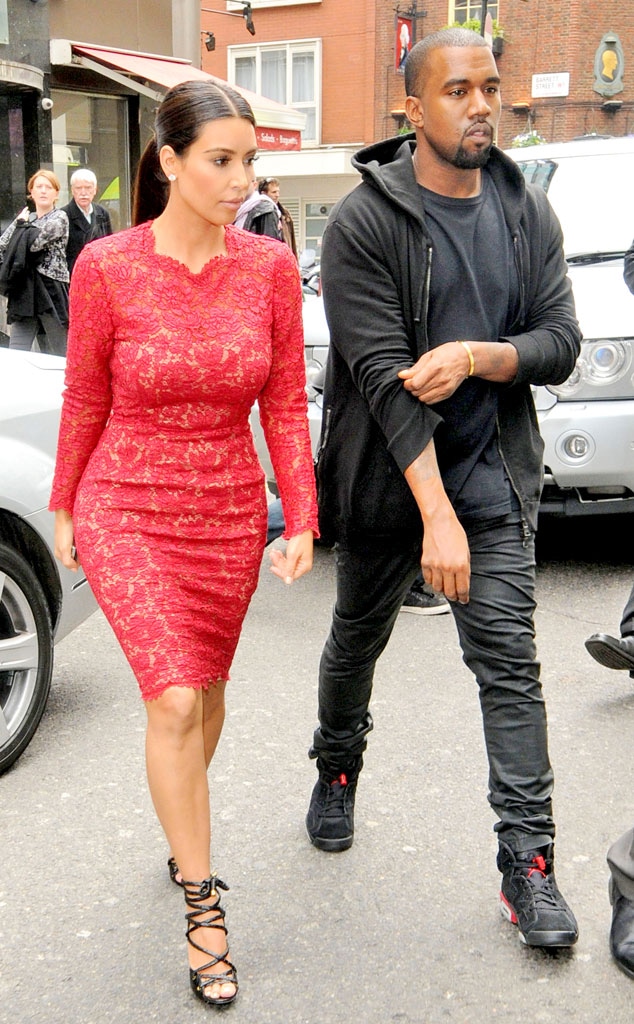 PacificCoastNews.com
This week on Keeping Up With the Kardashians, the fam is heading out of Calabasas, Calif., for greener pastures, so to speak.
Starting with Kim Kardashian, Scott Disick and Rob Kardashian, who are all hopping across the pond for a little London adventure.
"People in London are very clahhh-sy," Kourtney Kardashian says. "You've gotta behave yourself like a proper gentleman."
If we've learned one thing it's this: While Scott is away he will play, and sure enough our fave almost-Kardashian man finds a new hobby—pretending to be royalty.
"I want to be saluted like this," Scott says when he sees all of the stops being pulled out for the Queen's Jubilee. "It seems like the popular-kid-in-high-school feeling to be royal when you're in London."
That's true, yes, but you're not a royal, Scott! Right?
While Scott tries to find a way into the royal fam, Kim is trying to find a way to squeeze quality time in with her BFF Jonathan Cheban. Only, as we all know, she's a busy lady and has zero free time!
"If she keeps acting like this, I'm just gonna go home," Jonathan says. "I don't even think she'll notice."
Yikes!
Meanwhile, Kris Jenner, Bruce Jenner and Khloé Kardashian-Odom are preparing to head to Boston for a set of their own appearances. The problem? Kris and Bruce have already started butting heads before their trip has begun.
"I 100 percent think that my Mom does not give Bruce any respect," Khloé says. "And she definitely avoids involving Bruce in her life more often than not."
Be careful what you wish for, Khloé, because Bruce is about to get involved with every aspect of your trip and you may not like it!
"It's actually painful to travel with Bruce Jenner," Kris says. "Because when there's a situation where he doesn't have any control, he becomes antsy and he can snap and really become crazy. Maybe Khloé will finally see this side to him."
It looks like Scott has started to become a little crazy himself after he discovers how to buy a title thanks to a quick Google search. He goes through with a ceremony to officially be dubbed Lord Disick and then climbs on top of a lion statue in Trafalgar Square to announce that Lord Disick is "in the house." Yeah, he's a lord of something all right!
The Kardashian fam may be giving Scott heat for his new "title," but Kim faces her own hate when a visit from beau Kanye West causes Jonathan to storm out of the hotel room.
"I feel like I've been so inconsiderate and I apologize," Kim tells Jonathan after following her BFF back to his room. "I love you and I want you here, that's why I wanted you to come out."
"I want us to have some fun on my terms as well, " Jonathan says. Just an FYI, Jonathan's terms mean a Kanye-free ride on the London Eye Ferris wheel. Well, almost Kanye-free, as Kim spots a small sign that says "West" and requests a photo opp, natch.
And while in Boston, Khloé is starting to wish she were Bruce-free as she sees that side of Bruce that Kris warned her about.
"How many people does it take to get you ready?" Bruce says while pacing in the hotel room.
And while en route to the event, he says, "She [Kris] has so much life insurance on me— I'm worth more to her dead than I am alive."
"I look like the evil witch with the apple," Kris says, "but I'm really the mother that shields them. And I don't put them in certain scenarios where I know Bruce snaps."
That's a lesson Khloé learns the hard way, as once they're back home, she brings her momager a bottle of wine and an apology. "If there's one thing I can take away from my experience in Boston I do think I owe my mom an apology," Khloé says."OK, I do see where you're coming from. I did see a little snappy side of Bruce. But I'm not going to say my mom's alright—they're both a little whacky."
Want more Keeping Up With the Kardashians? Tune in for a brand new episode next Sunday at 9 p.m. only on E!